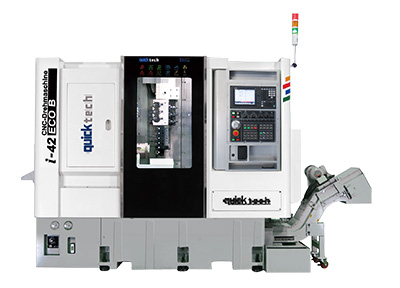 CNC turning and milling complex lathe
Model:

i-42 ECO

Country of Origin:

Taiwan
Detail Specifications / Descriptions
i-42 ECO
This 4 axis gang tooling lathe is an affordable alternative to a turret type,C-axis lathe.

The tooling system comprises of 6 turning, 4 boring and 6 live milling tools giving a capacity of 16 tools.
lts unique design allows for rapid chip to chip times, which will generally out perform turret type machines, enabling a reduction in cycle times.
lts rigid design allows heavy duty cutting to be performed, and the 6 live tooling spindles with both C-axis and Y-axis, can complete the most complex of work pieces in one operation.

TOOLING SYSTEM
The tooling block consists of 6 turning tools, 4 boring tools ang 6 live tools (16 in total).
This gang tooling system allows fast chip to chip times as there is very little movement from one tool to the next.
In addlition, the Y axis allows complex and 'off-center' milling operations to be performed, and with full C-axis control,many complex contours can be machined.

Axial view
i-42 Eco

SPINDLE
The cartridge type spindle runs on P4 high precision bearings giving high radial and axial stability, allowing for heavy duty cutting.
The spindle is assembled and tested in a temperature controlled clean room, sealed, and requires no maintenance. The spindle housing is large, and symmetrically ribbed to allow heat dissipation and thermal stability.

LINEAR GUIDEWAYS
The machine is equipped with high precision, HIWIN linear guideways.
The use of 35mm rails throughout the machine increases stability and accuracy, and allows heavier cuts to be achieved.