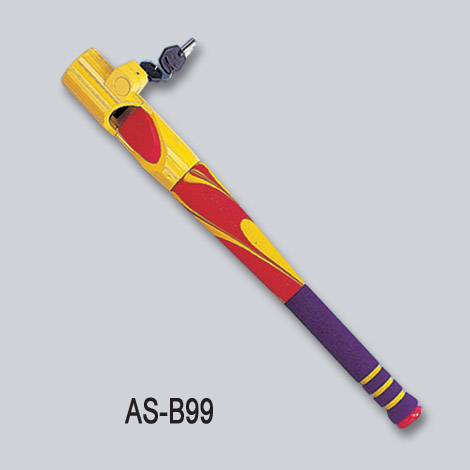 Bat Steering Wheel Lock
Model:

AS-B99 Series

Country of Origin:

Taiwan
Detail Specifications / Descriptions
AS-B99: red/yellow/blue.
Made of aluminum alloy with CNC machines, our baseball-bat-shape steering wheel locks are compact and lightweight with a plum-blossom-shape lock cylinder, featuring high precision and superior quality, with lock numbers randomly set by computer.
Sponge colors are optional; lock body inner diameter: 42.8mm, outer diameter: 55.8mm, total length: 555mm; attached with two sponge sheets.
Packing: 20pcs/double blister ; NW: 20kg; GW: 21kg; measurement: 2.35 cu. ft.
Our new bat locks for steering wheels feature enlarged outer diameters.