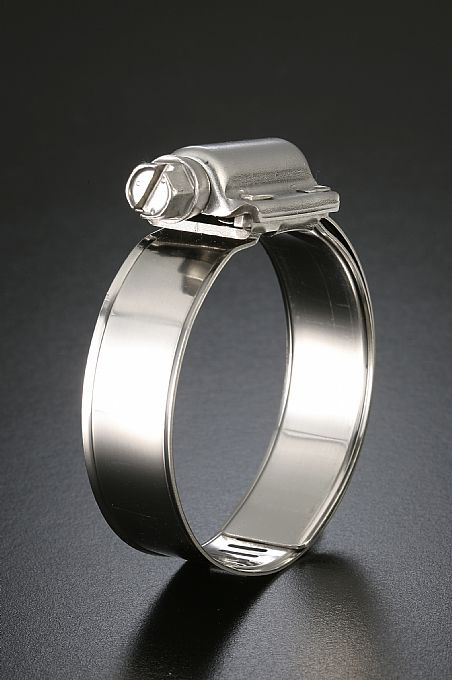 High Stability Hose Clamp
Model:SY-8L Country of Origin:Taiwan
Detail Specifications / Descriptions
Features:

Model/Item No.: SY-80.

Country of Origin: Taiwan TAICHUNG.

Competitive Advantages: Well and High Quality Control,OEM Accepted,Prompt.
Delivery,Competitive Prices,Small Order Acceptable.

Sales Method: Export, Manufacture, OEM/ODM.

Payment Terms: T/T,L/C.

High stability hose clamp: There are three categories: SY-80, 8L, and 8X series.
SY-80 series – Normal hand through band design.
SY-8L series – Extended inner lining added onto the inner fringe of band, which prevents soft hose got extruded or even cut off by band slot, it protects the soft hose and avoid position-shifting of inner lining when in assembly.
SY-8X series – It has larger range band with more hole numbers, allowing larger range of usage , 5 sorts of size hose clamp can cover up to hose clamp dia. From 1-1/4"~10-1/8", we assure that it can help custom cut back their storage pressure.

Material spec.:
Even they are different series clamp, they have same band width which is 15.8mm, and the thickness is 0.7mm. The inner width of shell body is 16mm; thickness is 1.5mm. The material we supply for the band and housing are #300 grade S.S. As for the Screw, there got two types:
1. 5/16" hex-head, #410S.S.
2. 5/16" hex-head, #304S.S.
*can custom made per the size customers ever need*

Feature:
1.Features of usage:
Outstanding stability hose clamp can be used in a leaking environment with intense vibration and under high pressure.

It can handle the most difficult sealing task, like ordinary heavy duty trucks, cross-country excavator forklift, industry machinery, engine, tube (hose fitting) for ship, etc.

2.Features and structure:
High stability hose clamps adopts 5/8" super wide shell body ( HOUSING ), the combination of upper/lower shell body is made by 'riveted', same tech as what has been applied in Euro/USA big companies. The material of housing (shell body) adopts 304H high steel material; with features of high tensile and not-deforming, the band width reaches 5/8", which is the widest in GEAR category. It is adequate to offer rather high torque value to band, and the band material hardness can reach as high as HV380°; moreover, it got dirt-proof mirror-treatment.

This product bolt/screw has been turning for many times. The accurate true circle (roundness) can offer rather good rotation w/o load rate.

This item has won the patent on steel band edge pressing & bur treatment production procedure mold & band in Taiwan and multi-nations all over the world.

3.The test of quality:
After self-conducting test, the high stability hose clamp got effective torque value as high as 250KGF.CM and without deformation. The max damage (destroy) torque can even reaches more than 300KGF.CM.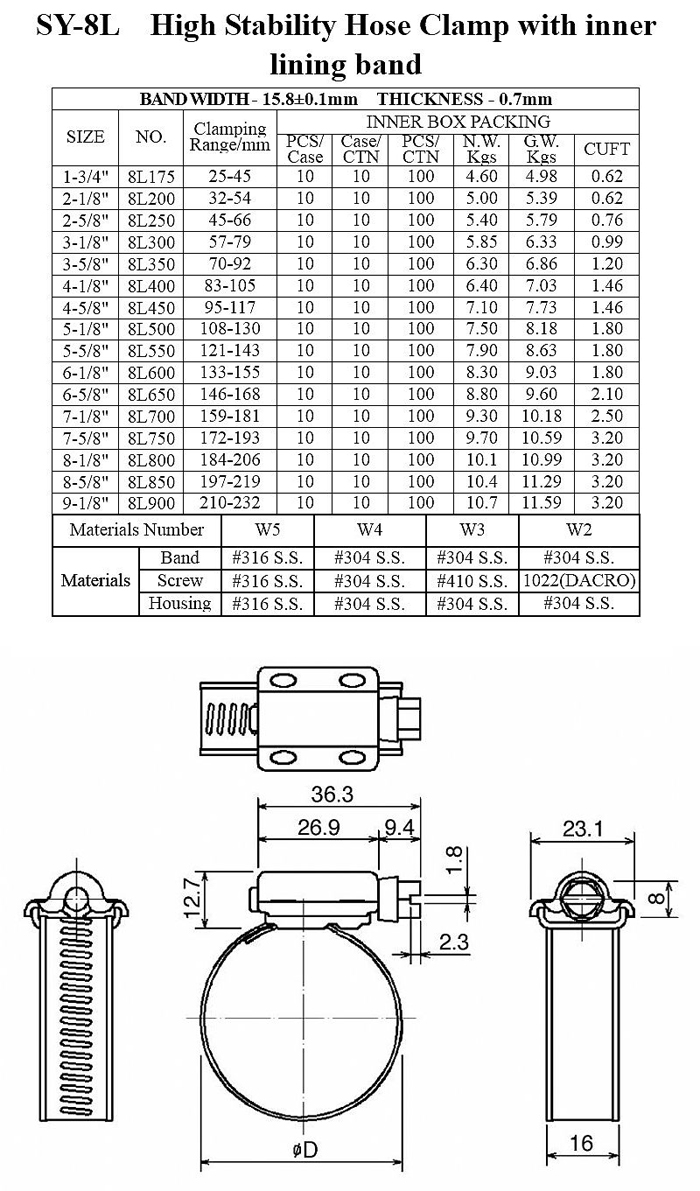 | | |
| --- | --- |
| Company: | SHUH YUAN INDUSTRY CO.,LTD. |
Send inquiry to this company
Customers who viewed this item also viewed