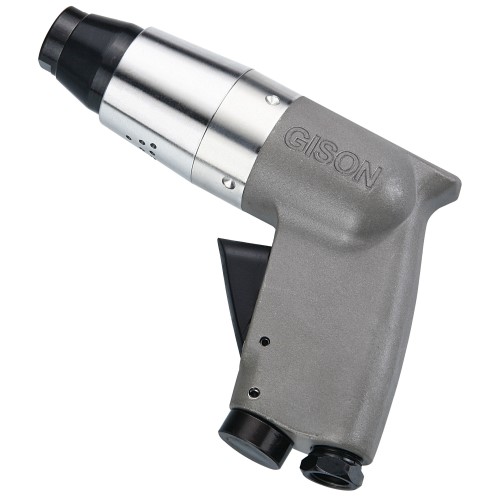 Mini. Air Hammers for Stone Engraving (with percussion strength control, 4500bpm)
Model:

GPW-4500

Country of Origin:

Taiwan
Detail Specifications / Descriptions
Mini Pneumatic Hammers for Stone Engraving (with percussion strength control, 4500bpm)
Mini Air Engraving Hammer
Mini Air Hammers for Stone Engraving
Mini Air Hammer for Tile Remove
Mini Air Riveting Hammer

Specification:
•Round Shank, Shank Size of Chisel: 10.2 mm
•Stroke Speed: 4500 bpm
•Piston Stroke: 36 mm
•Piston Dia.: 16 mm
•Net Weight: 0.73 kgs
•Length: 155 mm
•Air Cons.: 0.12 m3/min (4.2 scfm)
•Air Inlet: 1/4"
•Hose Size: 6.5 mm
•Air Pressure: 90 psi
•Min. Sound Pressure : 76 dBA
•Max. Sound Pressure : 92 dBA
•Packing: 20 pcs/1.2cu-ft/G.W.:19kgs
•* with a Tungsten Steel Chisel

Features:
•Light Weight
•Built-in Regulator
•Adjustable Direction for Air Exhaust
•Shock Absorbance by Spring
•with percussion strength control, very precise single-percussion control

Applications:
•Ideal hammer for all lettering and ornamental works.
•Used for fine masonry work like chopping scripts out of stones.