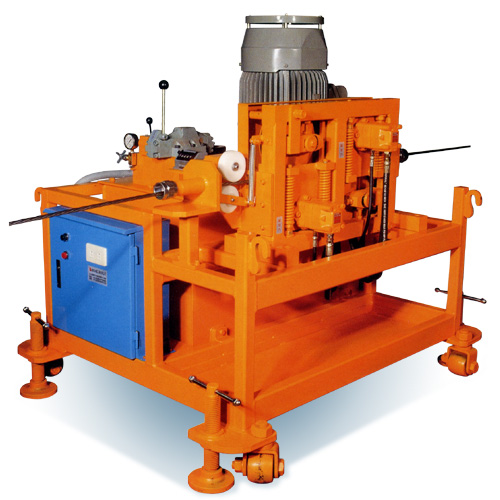 Hydraulic Steel Strand Pusher
Detail Specifications / Descriptions
Based on hydraulic concept, this steel strand pusher is designed to provide low rpm, high torque.
In this machine, the motor is used to drive high-pressure pump to generate power. Through the pump, the power is further transferred to two hydraulic motors which will be used to activate four wheel axles.

The working pressure of this steel strand pusher can reach over 250kg/cm2.

This machine is available in quick and slow speed models for option in use.

The revolution can be operated from the low speed of 600 rpm to quick level of 1100 rpm.

For the steel strand pushing capability, this machine can push for over 100M at low speed and in quick-speed mode, the length can reach 200M.

One unit of meter is installed on this machine during the steel strand pushing to clearly view the pushing length.

This machine can also be used to retract the excessive strand at low-speed.

The stranding frame produced by our company is made of most practical steel material. Easier to assemble with satisfactory usability without the repeated need of cranes, thus more economical and higher in efficiency. (optional accessories)

Power used: 220V, 3, 60Hz, 30HP

Dimension: 150cm (H) x 115cm (W) x 135cm (L).