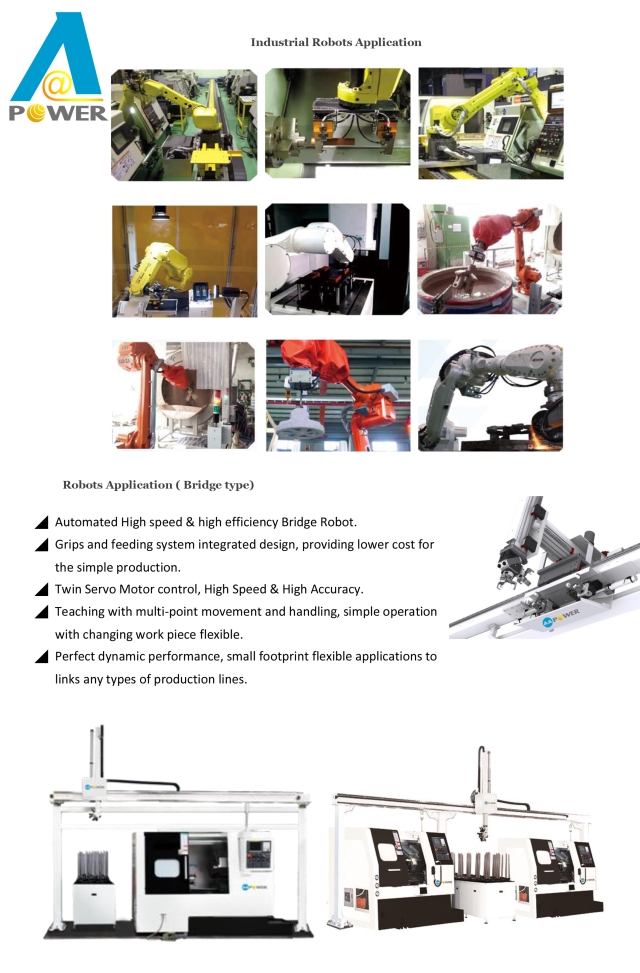 Bridge type series Robots Application
Model:

Bridge type series

Country of Origin:

Taiwan

Material:

cast

Color:

white
Detail Specifications / Descriptions
Maximum load capacity of Bridge type series are over 4 tons.

Bridge type series for heavy-weight series adopted overall model foundry as body, whole steel beams, overloaded roller guide rails, gear and rack drives mode, safety brake devices, so this series especially suitable for large and heavy load equipment .

Modular design installed the rotating parts, motor, gearbox, sliders, gears on one box to alleviate moving parts weight, enhanced arm rigidity, improved load capacity. The structure is simple, reliable, convenient to maintenance, pipeline distribution compact and brief. Lubrication system is also installed on the box that greatly reduced the length of the oil pipe, making lubricants distribute more rational, reducing the failure of the lubrication system.

Each axis servo system using absolute position encoder to ensure the high accuracy, reliable operation. All operations of the robot can be achieved by remote control panel, which makes operator easy to understand, to learn, so the operation is very convenient.