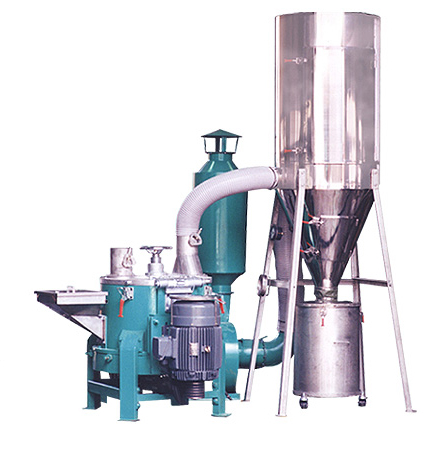 Three-Axis Water-Cooled Pneumatic Grinder
Country of Origin:

Taiwan
Detail Specifications / Descriptions
Functions and Features:
.Designed for making powders for food, pharmaceutical, and chemical products.
.The fineness of grinding can be freely adjusted according to actual needs.
.The water-cooling system effectively lowers temperature increase resulted from grinding and enhances efficiency.
.Air isolating system prevents powder dust from contacting the axes, extending their operating life.
.Stable machine body ensures low vibration and low noise level during grinding.
.Can be equipped with an automatic feeder according to customers' requirements.
.Dust collecting & filtering cloth pipe can be easily detached and washed.
.Power: 20HP.
.Ground fineness: 80-500 mesh.
.Capacity: 35-80kg/hr (depending on material).