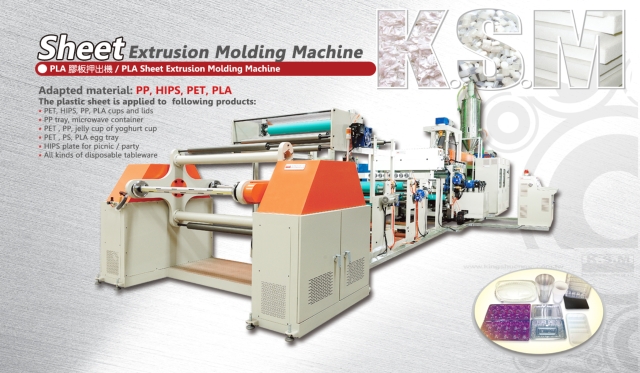 Plastic Sheet Extrusion Machine-PLA
Hot
Country of Origin:

Taiwan
Detail Specifications / Descriptions
Adapted material:PP、HIPS 、PET、PLA.

The plastic sheet is applied to following products:
1.PET、HIPS、PP、PLA cups and lids.
2.PP tray, microwave container.
3.PET、PP jelly cup or yoghurt cup.
4.PET、PS、PLA egg tray.
5.HIPS plate for picnic/party.
6.All kinds of disposable tableware.

The feature:1.The plastic sheet is wound in roll or formed on-line directly(The cutting machine is listed as optional equipment)
2.Single/two/three layers is producible.
3.Imported gear box from Europ.
4.The material of barrel and screw is SACM645, the hardness is HRC63~65. From 100% of virgin material to 100% of recycled material are all usable in our extrusion machine.
5.Driving with SSR or SCR heating, PID temperature control.
6.Twin shafts hydraulic filter. Renew the screen without pause the operation.
7.T-die made by qualified supplier in Taiwan. Equip static mixer to assure the flow of plastic material inside of T-die more even and less diversity in thickness.
8.Many kinds of deckling system satisfy client's demand (Optional equipment).
9.Horizontal style, vertical style or 45 degree slope style of cooling roller is decided by clients. The cooling roller is designed with individual servo motor linking control.
10.To improve the cooling efficiency of plastic sheet, the roller cooling system can be equipped with individual temperature control.
11.According to the demand, air knife、corona treatment machine or thickness measurement instrument can be equipped additionally(Optional equipments)
12.Edge material crusher can link the line speed of main machine to adjust its speed. Crushed flake can be reused.
13.The design of driving motor adopt vector converting control in order to reach "Energy saving and carbon reduction".
14.All components are imported from Italy、Germany 、UAS、Japan or made in Taiwan.
15.Clients could choose the manual control or human-machine interface of control panel according to the demand.
16.We could provide turn-key project including forming machine and recycling pellet machine.