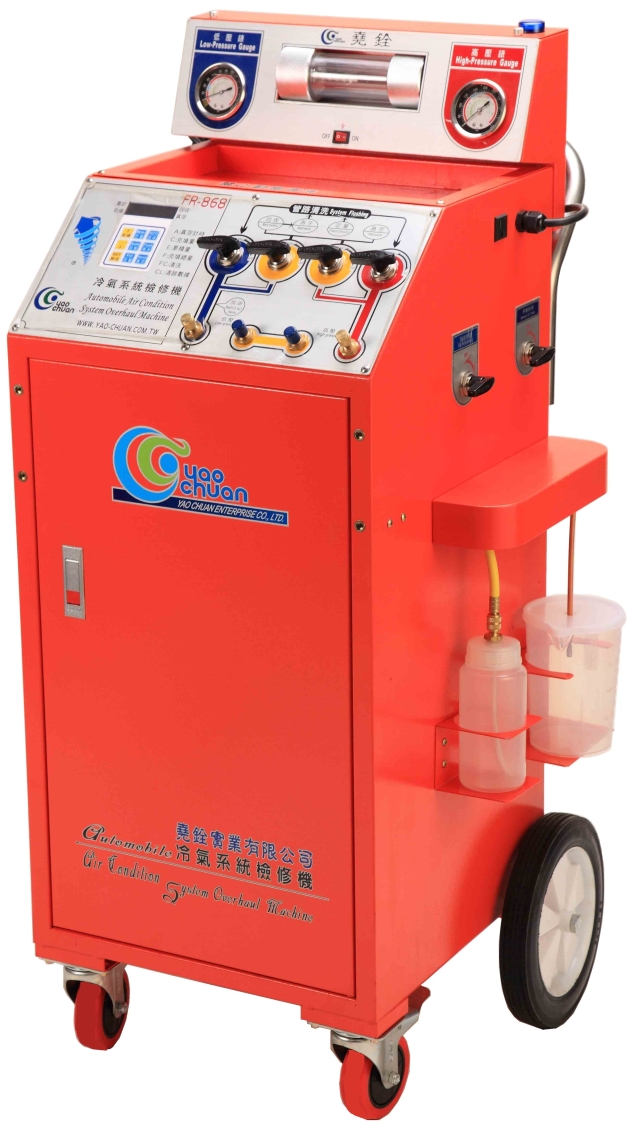 FR-868 Automobile Air Condition System Overhaul Machine
Hot
Model:FR-868 Country of Origin:Taiwan
Detail Specifications / Descriptions
Powerful and complete function
System health checks / Pipeline Cleaning / Refrigerant Recycling / Vacuum Supply
Refrigerant Regeneration / Refrigerant Oil Replacing / Refrigerant quantitative filling

Compressor:3/4 HP
Size: L55 X W61 X H118 (cm)
Weight: 96 Kg
Applicable Refrigerant: R-134a or R-12
Vacuum pump: 1/2 HP
Quantitative Scale: 30kg  10g
Pressure Gauge: High & Low Pressure Gauge
Exhaust: automatic exhaust
Oil Extraction: manual Oil Extraction
Cleaning Window: 1 unit (with filter)
Frozen oil filling: Inhaled filler
Protection: automatic shutdown/ automatic oil-returning
Lamp: Laminate Fluorescent Lamp 8w x 1pc
Refrigerant Pipe: one unit (with fast connector)
Application: Automotive AC maintenance plants

Considerate design of Overhaul machine
System health checks - Equipped with explosion-proof transparent window, we can quickly and safely find out the problem in the piping system through it.
Pipeline Cleaning - Clean out all the impurities in the compressor and unblock the pipeline.
Refrigerant Recycling-Recycled refrigerant can be used again after filtration.
Quality Assurance - Liquid storage tank, oil separator and heat exchanger are made of galvanized iron ,French-made compressor, advanced ball valve are used in this machine and make it durable.
Significant effect - It can clean out the impurities, iron scale and fluorescer in the system, unblock the pipeline and reduce fuel consumption, make air conditionings more effective.
Quick treatment - Aim at various pipeline blockings, control cleaning direction with manual valve, easy to operate, target-oriented processing, solve the problem once for all.
Well-equipped - Equipped with vacuum pump, oil filter and quantitative scale to do one-stop operation, reduce set-up time.
Quantitative filling - Set the filling refrigerant quantity you are going to add, and let them go into the system.
Company:
YAO CHUAN ENTERPRISE CO., LTD.
Address:
No. 42-38 Yunghung St., Renwu Township, Kaohsiung hsien, Taiwan 81468
Telephone:
886-7-373-0278
Fax:
886-7-375-8109
E-Mail:
URL:
www.yao-chuan.com.tw
www.cens.com/yao-chuan

Send inquiry to this company