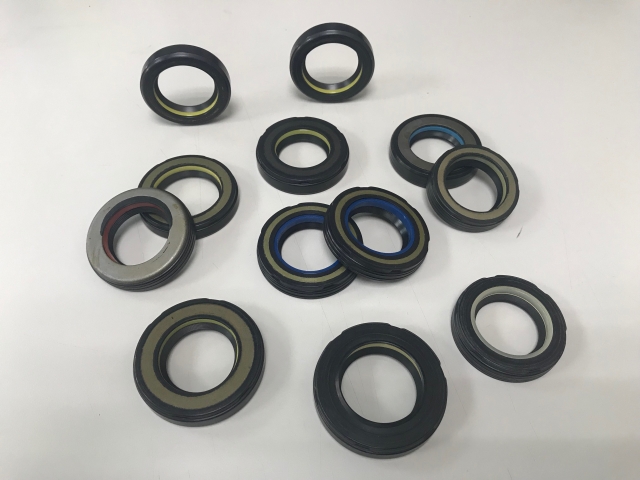 POWER STEERING SEAL (NYLON COVERED)
Hot
Model:

TYPE: SCJY & TACY

Country of Origin:

Taiwan

Material:

HNBR+NYLON
Detail Specifications / Descriptions
Power Steering Seal is a very critical parts in steering system. KAI GIU power steering seal is designed to prevent fluid leakage to make sure steering system proper operation.
Power steering seal have to work in high pressures and extreme temperatures not only just fluid leakage prevention. KAI GIU has over years experienced techniques to provide you best quality power steering seal.
MAIN FUNCTION:
Perfect Sealing of Hydraulic Fluid
Perfect Protection not make Pressure Loss
ALL POWER STEERING SEALS is coverd "NYLON"
SIZE RANGE FROM 17 TO 41 MM
VARIOUS SIZES OF POWER STEERING SEAL ARE AVAILABLE <

| | | |
| --- | --- | --- |
| TYPE + SIZE  | OEM |  NOK |
| SC4     11*24*7 |   | AR0378G |
| SCJY   12*27.2*9/10 | 26029469 |   |
| SC4     16*28*7 | 1304-0048 | AR0685G |
| TC4Y   17*30*7/8 |   | AR0743G |
| SC4     17*30*7 |   | AR0816E |
| TC4Y   17*36*6.5/7.5 | 90026-403003 |   |
| DCY     17.5*32*6/9.4 | BF67-32-126 | AW0790E |
| TC4Y    18*30*6.4/7 | 49365-V0200 | BP1134E |
| TC4Y    18.8*30*5 |   |   |
| TC4Y    18*30*7/8 |   |   |
| SC4      18*28*8 | 90311-18006 | AR0809J |
| TC4Y    18.75*30*5/7.3 |   |   |
| TC4Y    19*32*6/7 | 90311-19012 | BP0077G |
| TCY      19.05*26.46*7.92 |   |   |
| TC4Y    19*32*7/7.5 | 90311-19002 | AP8096E |
| TC4Y    19*38*7/7.8 | 90311-19007 | BP2152E |
| TC4Y    19*37*6.5 |   |   |
| TC4Y    19.05*34.6*6.3/7.3 |   | BP1503E |
| TC4Y    19*29.2*7/8 |   | BP6152E |
| TC4Y    19*32*6/8.5 |   | BP6775G |
| TC4Y    19*29*7/8 |   | XP0079E |
| TC4Y    19.05*32*6/6.9 |   |   |
| TC4Y    19*32*7/7.8 | 90311-19006 | AP8906G |
| TC4Y    19*35*5/5.7 |   |   |
| TC4Y    19.05*34.6*6.3/7.3 |   |   |
| TC4Y    19*32*6/7 |   |   |
| TC4Y    19.8*39.7*6.35/7 | 7828171 |   |
| TC4Y    19*32*7/7.8 |   | AP8906F |
| TC4Y    19*29*7/11.5 |   | XP0079G |
| TGY      20*30*5/6 | 0770080366 |   |
| SCJY    20*40*7 |   |   |
| TC4Y    20*42.3*9.3 |   |   |
| SCJY    20*35*8 |   |   |
| TGY     20*30*7/8 |   |   |
| TGY     20*30*5/6 |   |   |
| SCJY    20*32*8.5 |   | BP0087E |
| SCJY    20*40*8 |   |   |
| SCJY    21*34*9 |   | BP3299F |
| SCJY    20*41*8.5 |   |   |
| TC4Y    20*30*5.3/6.7 |   |   |
| TGY     22*32*5 | 07020439B |   |
| SCJY    22*35*8.5 |   | BP3379F |
| SCJY    22*36.5*8 |   | BP2406F |
| TACY    22*35*7.3 |   | AP1133E |
| SCJY    22*32*7 |   | AP1116E |
| SCJY    22*36*7 |   |   |
| SCJY    22*38*8 |   |   |
| SCJY    22*38.2*13/14 |   |   |
| SCJY    22*34*8 |   | BP5523F |
| SCJY    22*38.2*8 |   | BP4560H |
| SCJY    22*35*8 |   | AP1127H |
| SCJY    22*38.5*8 | MP022N3 |   |
| SCJY    22*35.2*8.5 | MP022K7 |   |
| SCJY    22*38.5*8.5 | MP022K6 |   |
| SCJY    22*39.2*12.7 |   |   |
| SCJY    22*32*3.8/6.1 | 26031117 |   |
| SCJY    22*39.5*8 |   |   |
| TCY      22.2*32*5/6.5 |   |   |
| SC4      22*31*6.5 |   |   |
| SCJY    22*35*15.5 | 26031141 |   |
| SCJY    22*39.7*12.7 |   |   |
| SCJY    22*34*8.5 |   | BP2094E |
| SCJY    22*39*8.5 |   |   |
| SCJY    22*42*8.5 |   |   |
| TC4Y    22*34*6.5/7.1 |   | AP8451E |
|              22*34.2*7/11.8 |   |   |
| SC4      23*38*6.5 | GP930-010 |   |
| SCJY    23.02*38.1*8.2 |   | BP1501G |
| SCJY    23*41*8 |   | BP4081E |
| TC4Y    23*35*6.5 |   |   |
| SCJY    23*37*9 |   | BP1686F |
| SCJY    23*40*9 |   | BP4048E |
| SCJY    23*38*9 |   | BP5385E |
| SC4      23*34*6.5 | 90310-23005 | BP2151E |
| SCJY    23*34.3/38*7.5 |   |   |
| SCJY    23*34.3/40*7.5 |   |   |
| SCJY    23*32.6*5.5/8 | 023-0080-025-009 |   |
| SCJY    23.5*33.5*6 |   | BP2819E |
| SCJY    23.5*40*8 |   |   |
| SCJY    23*34.5*6.5 |   |   |
| SCY     23.36*29.75*4/6 |   | BP3878F |
| SCJY    24*41*8.5 | 90311-24011 | BP2150J |
| SCJY    24*40*7 |   |   |
| SCJY    24*42*8.5 |   | BP2285E |
| SCJY    24*40*8 |   | AP1260J |
| SCJY    24*43*7 |   | BP3050F |
| SCJY    24*40*8.5 |   |   |
| SCJY    24*36*7 |   | AP8097G |
| SCJY    24*36.5*8.5 |   | BP1720F |
| SCJY    24*36.5*12 |   | BP4871E |
| SCJY    24*38.2*8.5 |   | BP1829G |
| SCJY    24*42*8 |   | AP1263E |
| SCJY    24*38.2*12.5 |   | BP4908E |
| SCJY    24*35*12 |   | BP4909F |
| SCJY    24*36*8 |   | BP1569F |
| SCJY    24*37*8 |   | AP1247F |
| SCJY    24*42.5*13/14 |   |   |
| SCJY    24*41*12.5 |   | BP4767E |
| SCJY    24.99*37.5*7 | 30SL-032-BA | BP3524E |
| SCJY    24.99*43*9 | 30SL-034-BA | BP3525E |
| SCJY    24*41*8.5 | 90310-24009 | BP2150I |
| SCJY    24*38.2*8.5 |   | BP1829K |
| SCJY    24*35*8.5 |   | BP6052E |
| SCJY    24*42.5*9/10 |   |   |
| SCJY    24*41*8.5 | 90310-24012 | BP6483E |
| TC4Y    24*37*6.5 |   |   |
| SCY     24*38*7 |   |   |
| SCJY    24*38*8 |   | AP1252F |
| SCJY    24*40*8 |   | AP1260M |
| SCJY    24*45*7 |   | AP1265E |
| SCJY    24*36.5*9/10 |   |   |
| SG      24*37*7 |   |   |
| SCJY    24*36.5*8.5 |   |   |
| SCJY    24*42*8.5 |   |   |
| SCJY    24*42.5*13/14 |   |   |
| SC4     24.1*35.4*6.5 |   |   |
| SCJY    24*43*8.5 |   |   |
| SCJY    24*45*12.5 |   |   |
| TC4Y    24*36*5.3/6.7 |   | BP5540E |
| SCJY    24*39*8.5 | ZF-7891-033-105 |   |
| TC4Y    24*36*7/7.4 | 90029-21010 | AP8097H |
| SCJY    24*44*8 |   | BP5105E |
| SCJY    24.97*37.54/41.24*4.2/7.42 |   |   |
| TC4Y    24*43*8.5 |   |   |
| SCJY    24.98*41.24*9.6 |   |   |
| SCJY    25.5*39.5*8 |   | BP3416E |
| TC4Y    25*40*7.5/9 | 1-44259-036-1 |   |
| SCJY    25.5*42.5*8 |   | BP3763F |
| TC4Y    25*38*7/8 | 90310-25004 | AP1306H |
| SCJY    25.5*39*8.5 |   | BP1481E |
| SCJY    25.5*38.5*8.5 |   | BP1471E |
| SCJY    25.5*37.5*8 |   | BP1712F |
| SCJY    25.5*44*8.5 | 90310-25013 | BP3284G |
| SCJY    25.5*39*8 |   | BP3761E |
| TC4Y    25*38*7.5 | 9828-25137 |   |
| SCJY    25.5*42*9 |   | BP2392F |
| SCJY    25*43*9 |   | BP3837F |
| SCJY    25*43*8 | 23711-01909-000 | BP2982F |
| SCJY    25.5*41.1*8 | 90310-25018 | BP3762E |
| SCJY    25*35*8 | 91212-06-01 | AP1295G |
| DC      25*40*8 | 14689-99005 | AW1314E |
| SG      25*34*5 | ZF0770-080-423 |   |
| SCJY    25.5*42.5*8.5 |   |   |
| SCJY    25*37*8.5 |   | BP4905E |
| SCJY    25*37*9 |   | BP3913F |
| SCJY    25*36*8 |   |   |
| SCJY    25*38.5/45*6/10 |   |   |
| KC5Y    25*41/47*8.5 |   | AR1317E |
| SCJY    25*36*8 | 0009978249 |   |
| SCJY    25*38.5/45*6/10 |   |   |
| SCJY    25*38*7 |   |   |
| SCJY    26*38*8.5 |   |   |
| SCJY    26.5*44*8 | 90310-26008 | BP3881G |
| SCJY    26*41*12.5 |   | BP4564E |
| SCJY    26*43*12.5 |   | BP4872E |
| SCJY    26*45*7 |   | AP1476E |
| SC4     26*38*6.5 | 90311-26003 | UP0811E |
| SCJY    26.5*44*8.5 |   | BP3446H |
| SCJY    26*38*12 |   | BP4848F |
| SCJY    26*41*8.5 |   | BP3428F |
| SCJY    26*44*8.5 |   | BP5608E |
| SCJY    26*45*8.5 |   | BP6071E |
| SCJY    26*44*10 |   |   |
| SCJY    26*41*8.5 |   | BP3428J |
| SCJY    26.5*44*8.5 |   | BP3446G |
| SCJY    26*47*7 |   |   |
| SCJY    26*38*7.5 |   |   |
| SCJY    26.5*41*8.5 |   | BP2967H |
| TC4Y    26*37*6.5 |   |   |
| TC4Y    26*38*7.5 |   |   |
| TC4Y    26*35*5.8/7.3 |   | BR6394E |
| SCJY    26*42.5*8.5 |   | BP5883F |
| SC4     26*35*7 | ZF7842-03-3115 |   |
| SCJY    26*48*8.5 |   |   |
| SCJY    26*43*8.5 |   |   |
| SCJY    26*44*8 |   | BP6346E |
| SCJY    26*47*8.5 |   | XP0541E |
| SCJY    26*46*8 |   | BP5453E |
| SC4     27*38*5.5 |   | BP5012E |
| SCJY    27.7*38*8.5 |   | BP5261E |
| SCJY    27*43*8.5 |   | BP4706F |
| SCJY    27*41*8.5 |   | BP4705I |
| SCJY    27*44*8.5 |   | BP5316E |
| SCJY    27.7*42*8.5 |   | BP3296F |
| SCJY    27.7*42*12.5 |   | BP4448E |
| SCJY    27.7*46*12.5 |   | BP5213E |
| TC4Y    27*37*7.5/9.5 |   |   |
| SCJY    27.7*46*13/14 |   |   |
| SCJY    27.7*46*9/10 |   |   |
| SCJY    27.7*42*9/10 |   |   |
| SCJY    27.7*46*8.5 |   |   |
| SCJY    27.7*42*8.5 |   |   |
| SCJY    27.7*39*8.5 |   | BP5262E |
| SCJY    27*46*8 |   |   |
| SCJY    27.5*40*8.5 |   |   |
| SCJY    27*46*8.5 |   | BP6883E |
| SCJY    27.7*44*9/10 |   |   |
| SCJY    27.7*40*9/10 |   |   |
| SCJY    27.7*48*9/10 |   |   |
| SCJY    27*40*8.5 |   |   |
| SCJY    27.7*42*12.5 |   |   |
| SB4Y    27*38*6.5 |   | BP6592E |
| SC4     27*41*5.5 |   | BP5399E |
| SC4     27.73*37.3*6.5 |   |   |
| SCJY    27*47*9 |   |   |
| SCJY    27*42*8 |   |   |
| SCJY    27.7*45*8.5 |   | BP5512E |
| SCJY    27*42*8.5 |   |   |
| SCJY    27.7*50*9/10 |   | XP0860E |
| SCJY    28*40*4/6 |   |   |
| SCJY    28*44.7*9 |   |   |
| SCJY    28*46*8.5 | ZF-7852-033-134 |   |
| SCY     28.5*43*6.5 |   |   |
| SCY     28.5*43*6.5 |   |   |
| SCJY    28*41*8 |   | BP3807E |
| SCJY    28*46*8.5 |   |   |
| SCJY    28*38*8 | 01015867 |   |
| SC4     28.6*38*6 |   | BP2532E |
| SCJY    28*40*8.5 |   |   |
| SCJY    28*48*8.5 |   | BP1562E |
| SCJY    28*47*8.5 |   | XP0437E |
| SC4     28*38*7 |   |   |
| SCJY    28*39*15 | ZF-7852-033-168 |   |
| SCJY    28*41*8 |   |   |
| SCJY    28*40*8 | BPP915-A1 |   |
| SCJY    28*39*8 |   |   |
| SCJY    28*46*9 |   |   |
| TB4Y    28*38.3*7.5 |   | BP6494E |
| SCJY    28*44.6*9 |   |   |
| TC4Y    28*40*5.5 | 0149976947 |   |
| SCJY    28*46*8 |   |   |
| SCJY    28*42*8 |   |   |
| SCJY    28*39.64*6.35 |   |   |
| SCJY    28*43/48*5/11.9 |   |   |
| TC4Y    28.6*40*8/8.6 | 48137-01G10 | AP7352E |
| SC4     29*43*7 | ZF0770-080-542 | XP0412E |
| TGY     29*43*7/7.5 |   |   |
| TC4Y    29.5*47*6/7 |   |   |
| TC4Y    30*40.5*10.5/12 |   |   |
| SCJY    30*46*8 | 90310-30011 | AP7142E |
| SCJY    30*42*8 |   | AP1666K |
| TACY    30*44*11 | 12001879 |   |
| SCJY    30*50*7 |   |   |
| SCJY    30*48*8 | 90043-OK090 | AP1700F |
| SCJY    30*47*9 |   | BP2968E |
| SCJY    30*50*8.5 |   |   |
| SCJY    30*40*7 |   |   |
| SC4     30*40*7 | ZF7852-033-113 |   |
| SCJY    30*42.8*8 |   | BP5420E |
| TACY    30*44*11 |   |   |
| TACY    30*44*14 | 12013519B |   |
| SCJY    30*46*8 |   | AP7142F |
| SC4     30*41*6.5 |   | BP3282E |
| TACY    30*44*14 | 12013519B |   |
| SCJY    30*50*9/10 |   |   |
| SCJY    30*47*7 |   |   |
| SCJY    30*40*3.8/6.3 |   |   |
| SCJY    31*43.5/48*8.5 | B39340 |   |
| TC4Y    31.75*48*8/9 |   | AE1834F |
| VB4Z    32*42*6 |   |   |
| SCJY    32*44.5*8.5 | A220-997-0049 |   |
| SCJY    32*56*9 |   |   |
| TACY    32*50*14 |   |   |
| SCJY    32*46*8.5 |   | BP4953G |
| SCJY    32*50*8.5 |   |   |
| TACY    32*50*14 |   |   |
| SCJY    32*49*8.5 |   | BP4308F |
| SCJY    32*52*8.5 |   |   |
| SCJY    32*53*8.5 |   |   |
| SCJY    32*53*9 |   |   |
| SCJY    32*49*12.5 |   | BP5085E |
| SC4     33*43*6.5 |   |   |
| TACY    35*52*16 |   |   |
| SCJY    35*50*8 |   | AP2057G |
| SCJY    35*51*7.5 |   | GJ7888E |
| SCJY    35*56*8 |   | AP2093E |
| SCJY    35*52*9 | MM302390 |   |
| TACY    35*50*10 | 0103610 |   |
| TACY    35*52*16 |   |   |
| SCJY    35*53*8 |   | BP6853E |
| SCJY    35*61*10 |   | BP6300E |
| SCJY    36*50*13.5 |   | BP5828E |
| SCJY    36*57*13.5 |   | BP5827E |
| SCJY    38*51*8.5 |   | AP7088E |
| TB4Y    38*50*8/10 |   |   |
| TCV     41.28*60.33*9.53 |   | AP2462G |
More specifications
(pdf)