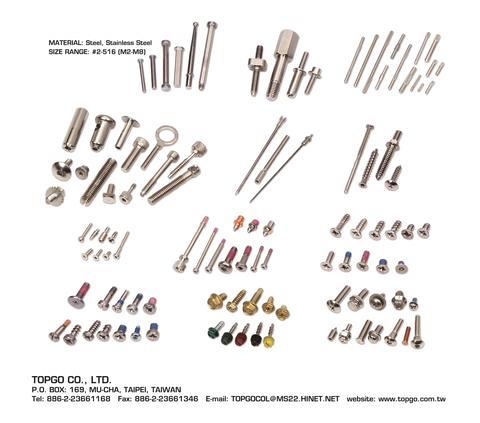 Fasteners, Screws, Bolts, Nuts, Pins, Pivots, Other Screws & Bolts , Hardware
Country of Origin:Taiwan
Detail Specifications / Descriptions
Product Description

Product Name: Fasteners, Screws, Bolts, Nuts, Pins, Pivots

Country of Origin: Taiwan

Material: Carbon Steel, Stainless steel, Brass, Copper

Detail Specifications

* Screws, Bolts, Nuts, Pins, Pivots and Washers
* OEM, ODM, Parts
* Sporting Goods Parts
* Ski Accessories
* Safty Equipment Parts
* Medical and Health Equipment Parts
* Aircraft Parts

Topgo Co., Ltd. was founded in 1996 major in Export and Import business. Markets are in North America, China, Europe, Middle East, South-East Asia and Taiwan. We have built a solid reputation on excellent product quality, reliability, and affordability. Efficiency, Innovation and Reliability are the spirit of company. Topgo is growing and developing to offer the best services to the world. We welcome any OEM / ODM inquiries.
Send inquiry to this company