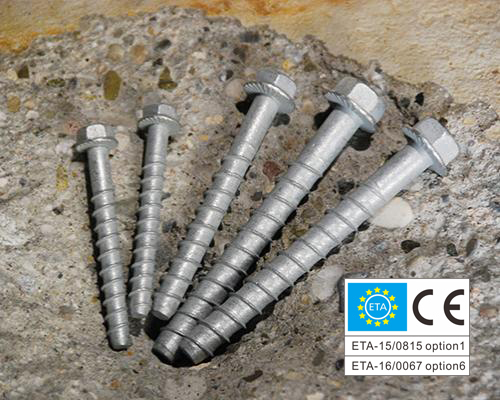 Steel Concrete Screw Anchors
Country of Origin:

Taiwan
Detail Specifications / Descriptions
Screw Anchor
Saves Time & Easy!
Non-hydrogen embrittlement component!



Sheh Kai Precision was professional Steel Concrete Screw Anchors manufacturer in Taiwan.

‧Fast Installation and Immediate Loading Minimizes Downtime
‧Qualifies for Seismic and Wind Loads in Concrete, Will not Slip
‧No Expansion Forces Transferred to the Base Material
‧Applicable Closer to the Edge than Traditional Expansion Anchors
‧Removable if Required
‧Performs Reliably in Cracked and Non-Cracked Concrete
‧Superior Corrosion Resistance



Sheh Kai Precision was Concrete Screw Bolts manufacturers

The Fastener Factory stock a range of high-quality countersunk concrete masonry screws and hex head concrete screw bolts, specifically designed for use in hollow bricks, masonry and concrete. Constructed from carbon steel and coated with zinc yellow, for inside use or galvanised, for outside use, The Fastener Factory has the right product for your application.

Concrete Screw Anchor are a totally removable, thread forming anchor, ideal for either temporary or permanent anchoring into materials such as concrete, brick, hollow brick or block.

The concrete screw bolts is particularly well suited to close-to-edge or close-to-anchor fixing as it does not expand and burst the surrounding substrate. Features a serrated hex flange head for high clamping force and vibration resistance.