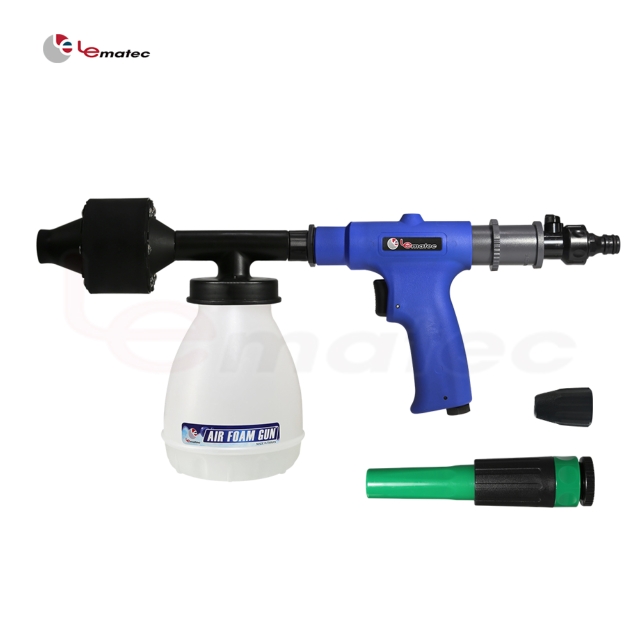 Air foam gun kits, one gun for foam, water/engine cleaning, sandblasting and blow/dust gun function
Model:

AS119-3A-1

Country of Origin:

Taiwan
Detail Specifications / Descriptions
How are car wash/washing your car simple and great result by lematec air snow foam gun set?

Air foam Gun
* Specially Designed Foam Outlet.
* Wide Range And Distance, Dense And Stable Foam.
* Specially Designed Foam Nozzle.
* Foam Quickly, Great To Clean The Dirt.
* Low Water Pressure Can Use Too.
Water Spray Gun
* Make Cars, Trucks, Boats Clean More Easily.
* Be Connected To Any Garden Hose Or With Quick Hose Connector
* Rotating Adjustable Sprinkler Mode
Blow Duster Gun
* Clean The Dust And Gravel Inside The Car.
* Clean Workbench, House.

Specifications
*Material: Nylon Composite
*Air Inlet: 1/4" Female
*Air Flow at 100 PSI: 14 CFM
*Operating Pressure: 90 PSI.
*Cup Capacity: 1000 ml.
*Cup Material: P.E.
*Weight:790g
*Weight:836g (with Sprinkler)

Lematec air foam gun kit with blowing, sandblasting, cleaning and water spray function
New Air Foam Gun Kit With Blowing Sandblaster Water Spray Engine Cleaning Car Wash Abrasive Blaster - | Lematec

This is the ultimate car washing kit. It has everything you need to wash your car, including an air blow gun, water spray nozzle and blower. It also includes a sandblasting attachment for cleaning off paint chips and tar on cars! This is the ultimate car washing kit! This air spray gun can be used to wash, foam, water blast and blow-dry cars. The best part? It plugs into your air compressor - meaning you don't need to buy any other tools or equipment.