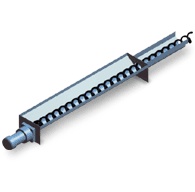 Screw Type Conveyor
Model:

FCS-1090
Detail Specifications / Descriptions
• With conpact design, it saves space for easy installation, less assembled joint and low fault rate.
• Screw diameter : Ø 90mm
• Available for conveying cutting piece, and long distance transportation (above 2M).
• It can install a Screw Type Chip Conveyor under Machining Center, and put a Steel Belt or a Scraper Type Chip Conveyor alongside machine back. Through the combination of X axis and Y axis conveyors, long distance transportation can be performed.