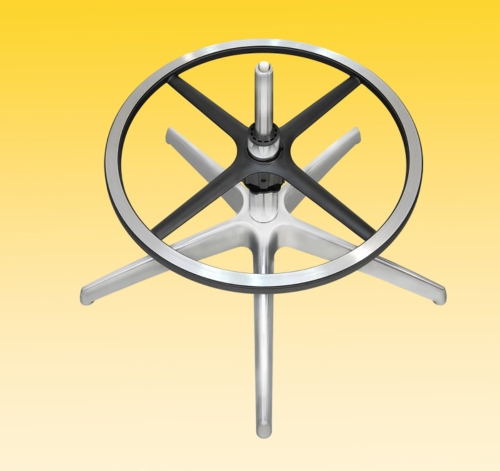 Chair Legs/stool footrest rings
Model:

IC-39510R(500mm)

Country of Origin:

Taiwan
Detail Specifications / Descriptions
stool footrest rings

In Cheng's Knob-free Stool Footrest Ring Knowing well that value of office chair parts can be enhanced through structural engineering for better utility and material efficiency, In Cheng Industry Ltd., a seasoned maker of multipurpose furniture, cabinets, display stands, and office chair bases and legs, has just developed an innovative stool footrest ring, highlighted with knob-free height adjustment.

The inventor of the stool footrest ring, Jacky Cheng, In Cheng's owner, commented that he developed the product as an improvement from conventional knob-operated models, which tend to loosen and dislodge after extended use, mainly because single-knob height adjustment resulting in uneven pressure distribution on the shaft.

In Cheng's knob-free height adjustment function is achieved by an engineered structure built into the center of the ring, composed of three durable sheets of TPR with specially designed, aligned angles to firmly mount the ring onto the shaft, coupled with two larger ones of nylon-lead composite to enclose the smaller ones for added structural strength. The structural design, patented in Taiwan and China, enables easy manual height adjustment of the ring by swiveling upward or downward along the shaft with improved stability achieved by even distribution of pressure.

Moreover, compared to traditional footrest rings, which employ metal casting of knob shafts and joints to incur higher production cost and weight, In Cheng's footrest ring is completely of injection molded plastic for lower material cost, higher yield rates, lighter weight and more competitive prices.

"High material efficiency and low unit price are particularly attractive to furniture makers for offering higher margins. From another viewpoint, the cost-efficient, durable footrest ring also provides consumers with more functional alternative to conventional models," said Cheng.