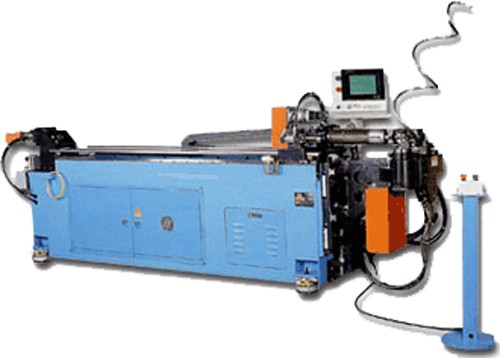 2 STACKS MOULD WITH ROLLING DEVICE
Model:CNC38BR2
Detail Specifications / Descriptions
Adopts PC Base 4 axes PLC controller, user friendly design for programming and data input via dialogus touch screen, easy for operation.
• All messages are available to be displayed alternatively in Chinese & English, other options are available by request.
• Data stored via controller or disk, available for 1,000 programs, able for higher capacity by request.
• Easy operation for programming: save, new file, copy, rename, delete, etc.
• Programming via (1). X. Y. Z coordinate figures input (2). Processing figures input(3). Teaching type coordinate figures input.
• Programmed with functions of auto-diagnostic and warning alarm to guard against illogical, error operations, monitor displays error messages and indicates trouble shooting; the record of recent messages is also available for efficient repair & maintenancd.
• Programmed with function of 3 axes simultaneous motion & spring back compensation.
• Able to combine bending and rolling in same program (option).
• With function for production quantity setting.
• Free setting for slowly unmandreling, booster, mandrel lubricating & spring back angle. With comtrastive table for program, tube, dies, etc.
• Free limitation of tube length when bending without mandrel via repetitive feeding.
• Able to transfer AutoCad file to coordinate axes by request.
| | |
| --- | --- |
| Company: | SHUZ TUNG MACHINERY INDUSTRIAL CO., LTD. |
Send inquiry to this company