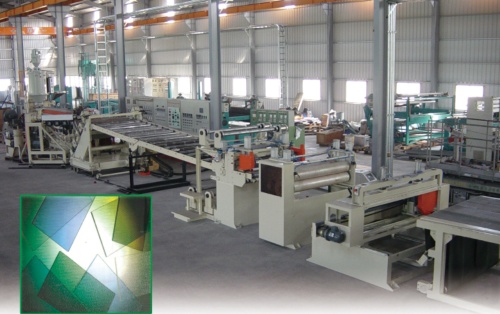 PC/PMMA Sheet Making Machines
Country of Origin:

Taiwan
Detail Specifications / Descriptions
Designed to make PC/PMMA sheeting, this model turns out
both plain and two (AB)/three-layer (ABA) corrugated ones
of superlative quality, making for a highly value-added unit.



Features:
--Designed for dedicated mixing, with threaded rod being nitride-treated for extra-smooth finish
and optimal wear resistance. The barrel is of SACMI steel, also nitride-treated for superior
hardness and wear-resistance to ensure long service life.
--User-friendly hydraulic screen changer allows quick screen change without shut-off.Auto
dosing system, working with a dehumidifier and proportion mixer, plus a gear pump and
T-die, ensuring output of the highest possible quality.
--Three mirror-polishing rolls, driven independently by Japanese servomotor for precise speed
control, ensuring finishing as fine as 0.1S.
--PE film laminator is also equipped to offer scratchproof protection for sheeting.
--Take-up unit stably pulls and guides sheeting, with circular-saw trimming for smooth edging.
Waste is directly recycled in-line for energy efficiency and minimized processing costs.
--Sawing unit cuts plain sheeting with precise length control. Optional auto stacker may be
installed to remove and neatly stack sheeting.