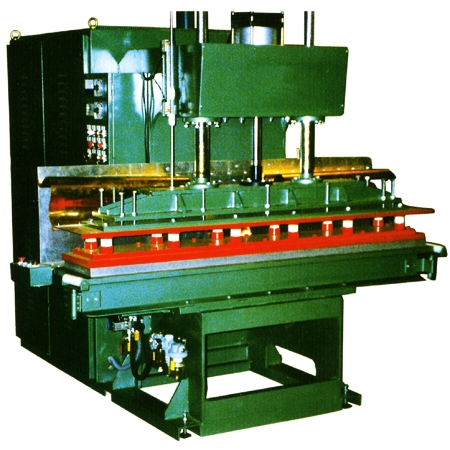 High-Frequency Machine for Waterbeds
Detail Specifications / Descriptions
‧ARC Suppressor
The electronic circuit on this machine works automatically when sparks occur and cuts high frequency immediately to suppress arce and minimize damage to electrodes and materials. Alarm lamp also Works simultaneously.
‧Jamming Prevention Device
With frequency stabilizer and high frequency magnetic leakage suppressor. This device prevents leakage of electric magnetic radiation to avoid jamming other electrical instruments such as television, radio, etc.
‧Safety Device
When the current exceeds its limits. The over-current relay works to protect oscillation tubes and rectifier. Frequency deviation caused by faulty operation is also prevented.
‧High Power Welder
Using a specially designed mechanism the foot pedal pressure is high enough to meet most operating conditions. The high quality components make these machines work very smoothly and precisely.
‧Easily Adjustable
Output power can be adjusted at the tuner according to electrode size and material thickness. Other control devices. And our special electrical circuits have cut down required welding time considerably to raise the machine productivity.

Usage:
Pure PVC or soft & hard PVC leather that contain over 30% PVC. PVC transfers to genuine leather. Special fabric PVC materials all these can be processed.

Applications:

‧Foot Wear, Trade Mark Labels, Stickers.
‧Raincoats, Tarpaulins, PVC Umbrellas.
‧Traveling Bags, Handbags, Beach Bags.
‧Stationery, Nams-Plate Badges, Inflatable Toys, Watermatress, Air Boats.
‧Seats, Sun Visor, Door Pannel for Vehicles & Motorcycles.
‧Sealing for Blister Packaging.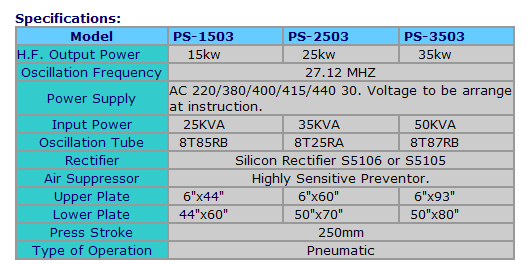 | | |
| --- | --- |
| Company: | E-TINE INTERNATIONAL CO., LTD. |
| Contact Person: | Benjamin Yang |
Send inquiry to this company
Customers who viewed this item also viewed