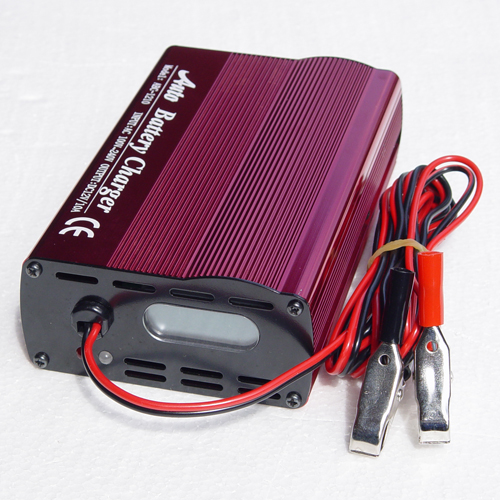 ABC-1210M / D ; ABC-2407M / D Auto Battery Charger
Model:

ABC-1210M/D; ABC-2407M/D

Country of Origin:

Taiwan

Material:

Aluminum

Color:

Red
Detail Specifications / Descriptions
Features :


1. Short-circuit protection—Charger O/P cuts off automatically when short-circuit.
2. Overload protection—----Charger O/P automatically limits the current when overload
3. Reverse Polarity protection—Charger O/P cuts off automatically when battery clamps reversed.
4. Intelligent Temperature Compensation---Adjust charging voltage to compensate for battery
temperature providing an accurate charger in any climate.
5. Automatic multi-rate charge---Equalizer Charge (charges quickly when battery low) and Floating
Charge (charges slowly when battery high)
6. Unique LCD display or meter display
7. Indicator lights—Red (Power on) Green (Floating charge) Yellow(Equalizer charge)
8. Wide input voltage range.
9. Advanced SMD technology---Reliable and elegant.
10. Stylish aluminum housing---Strong and efficiently disperses heat.



Scope of Application :


ABC series was designed for charging lead-acid batteries and nickel-metal hydride batteries only.
It cannot be used as a DC power supply when only available parallel with battery.