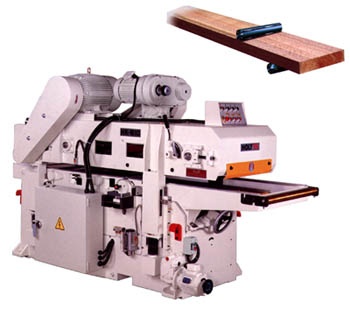 Double Surface Planer
Model:

HK-610
Detail Specifications / Descriptions
The four table rollers provide superior feeding regardless of the
type of wood being processed.
Standard start - delta motor starter.
Quick belt tension adjustment for the bottom cutterhead.
Variable feeding speed for maximum operational convenience.
A hand lubricator is provided for convenient lubrication to
the table slideways and caterpillar chain quick-ways.
A mechanical readout provides accurate details of table
positioning adjustment.
The bottom cutter-head's knife can conveniently be set or changed.
The TABLE surface is HARD CHROME PLATED and
precision ground for smooth performance and maximum wear
resistance at high speeds.
The dovetailed slideways on the table elevation ensures stability
and rigidity.
Both the top and bottom cutter-heads can be fitted with spiral
cutter-heads.
Corregated, sectional infeed rollers.
A thickness limit guard is provided at the infeed end as a safety
feature.
A feed rate variation from 7 to 16 meters per minute.