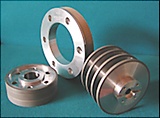 Beveling Wheels for TFTLCD Glass Grinding
Detail Specifications / Descriptions
. High Molding Efficiency
A binder for LCD has a strong bonding with diamond, and is provided with an appropriate self-dressing to maintain the best grinding efficiency.
Al-alloy substrate is adopted, whose weight is lighter above 60% than that of iron substrate to reduce a machine with horsepower consumption and promote the molding efficiency.
. To promote the molding stability
An appropriate trimming and adjustment for a grinding surface can obtain a steady efficiency for the early installation of a wheel.
. Profile for Customized Design
Depending on customer's demand manufactures each type of profile, furrow number and distance to promote the molding precision.
| | |
| --- | --- |
| Company: | CARBO TZUJAN INDUSTRIAL CO., LTD. |
Send inquiry to this company