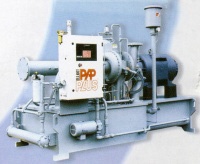 Polaris Air Compressor Series
Detail Specifications / Descriptions
Export, PA (August 19, 2005) – FS-Elliott introduces the PolarisTM Air Compressor Series, which features a superior package design for ease-of-maintenance, state-of-the-art aerodynamics to enhance plant operations, and a robust mechanical design that increases reliability. The new Polaris Air Compressor Series provides 100 percent oil-free, reliable Engineered Air – tailored to meet the individual needs of a variety of industries. Applications cover a wide range, including, automobile manufacturing, electronic component fabrication, food and beverage processing, mining operations, and pharmaceutical manufacturing, among others. The Polaris Air Compressor Series comes standard with the advanced RegulusTM Control System and Corona Brand™ lubricants for peak performance.

"FS-Elliott engineers have taken decades of experience and applied it to this enhanced compressor package," says Ron Stewart, chief executive officer, FS-Elliott. "The Polaris Air Compressor Series has an advanced aerodynamic and mechanical design plus a cutting edge control system and specially engineered lubricant. "

Designed with ease-of-maintenance and service in mind, the new Polaris Air Compressor Series includes a horizontally-split gearbox, pinion bearings and bull-gear bearings. This allows maintenance personnel quick and easy access to the components that need to be inspected, cleaned, and/or serviced. Easy access to critical components increases overall plant efficiency and minimizes operational downtime.

Advanced Computational Fluid Dynamics (CFD) design tools were utilized to develop and achieve the state-of-the-art aerodynamic design, which provides optimum performance within a wide operating range.

The robust design of the Polaris Air Compressor Series provides increased reliability under various loads and operating conditions. Self-adjusting journal bearings and double-acting thrust bearings can adapt to accommodate varying load conditions. Added reliability is achieved through five-axis milled steel impellers and precision component balancing.

Standard with the Polaris Air Compressor Series, is the Regulus Control System. The programmable logic controller (PLC) based modular system utilizes a color graphical touch screen human machine interface (HMI). This makes for a unique ease-of-use compressor management system. Also standard, Corona Brand lubricants have been engineered to minimize downtime, extend lubricant life, and broaden the compressor system's planned operational cycles.

To ensure the highest quality compressor package, FS-Elliott recently established a new facility to manufacture the Polaris Air Compressor Series, including new machine tools. In addition, while the standard industry compressor warranty term period is for one year, each Polaris Air Compressor comes with a two-year operating warranty. FS-Elliott provides emergency spare parts and technical service 24/7/365 through a dedicated service hotline.

"FS-Elliott has made a major investment in the future with the Polaris Air Compressor Series," says Stewart. "This new standard of quality, combined with the extended warranty and after-market service package, ensures that our customers are receiving the most reliable compressor package available. "
| | |
| --- | --- |
| Company: | FU SHENG INDUSTRIAL CO., LTD. |
Send inquiry to this company