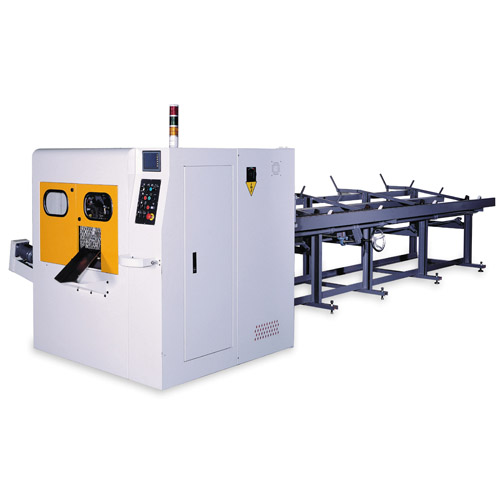 NC Type Circular Sawing Machine
Model:

NC-70-4A
Detail Specifications / Descriptions
a). The machine combines super hard saw blade and High speed steel saw blade as if two machine are in one.
b). The master clamp presses from top and clamps from two sides to ensure stable and accurate clamping.
c). Oscillating type feeding device with ball screws, driven by servo motor, has a feeding accurate of 0.01mm.
d). Oil mist type cooling is clean, and does not pollute the air.
e). Saw blade is protected by overload protector.
f). Touch type screen is easy for ordinary operators to use.
g). Front part and rear part of the material and finished material are automatically sorted out. Metal chips are removed automatically.
h). Sawing type feeding, hydraulic motor and ball screw make the feeding stable, and improve the tool life.
j). 3 point clamped saw blade reduces sawing vibration, and promotes the sawing blade life.