TaiSPO Taipei International Sporting Goods Show

Show Date:
2017/03/22~2017/03/25
Show Place:
TWTC Exhibition Hall 1 & 3
Taipei, Taiwan
Official Website
◆ Organizer:
Taiwan External Trade Development Council (TAITRA)
◆ Co-organizers:
Taiwan Sporting Goods Manufacturers Association (TSMA)
Taiwan Sporting Goods Association (TSGA)
◆ Show Dates & Hours:
March 22–24, 2017: 09:00~18:00
March 25, 2017: 09:00~15:00
*March 22, 23: Opens to trade professionals only
*March 24, 25: Opens to trade professionals and public
◆ Show Venue:
TWTC Exhibition Hall 1 & 3
◆ Exhibit Areas:
Fitness Equipment, Outdoor & Extreme Sport Products, Sport Balls, Massage Products, Miscellaneous Products
◆ Concurrent Shows:
Taiwan Int`l Diving and Water Sports Show (DiWas) @TWTC Exhibition Hall 1
Taipei Int`l Sports Textile & Accessory Expo (SpoMODE) @TWTC Exhibition Hall 1
Taipei Int`l Cycle Show @Taipei Nangang Exhibition Center, Hall 1 & TWTC Exhibition Hall 1, 2F Area H
◆ Events during the Exhibition:
■ Fitness Industry and Management Forum/ Outdoor Equipment Industry Forum
■ One-on-one Procurement Meetings
■ TaiSPO ALL STARS-Innovation`s Stage of Excellence & Innovative Design Award in Sports Technology Display Area
◆ Admission:
■ Trade Professionals: free entry (must provide business card)
■ Opens to Public on March 24-25, admission ticket: NT 200
CENS E-Magazines
2017-08 Edition

With cycling increasigly popular among people worldwide for reasons of health and environmental protection, Bicycles &...(more)

Free SampleView Ebook
Booth: D0312
HERMES CLUES INDUSTRIES CO., LTD.
Portable Travel Yoga Mat/Towel (Macaron pattern)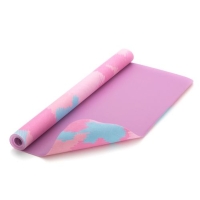 Feature: SGS certificated Non-plasticizer. Non-toxic. No heavy metal residues. Made in Taiwan.
Booth: G0664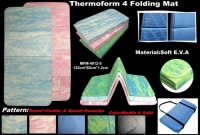 Thermoform 4 Folding mat Size: 122*60*1.2 cm, Material: soft EVA foam, Pattern: Round Swastika+
©1995-
2006
Copyright China Economic News Service All Rights Reserved.