MT duo - Taipei Manufacturing Technology Show

Show Date:
2018/05/09~2018/05/12
Show Place:
Taipei World Trade Center (TWTC) Nangang Exhibition Hall
1, Jingmao 2nd Rd., Nangang District, Taipei 11568, Taiwan
Official Website
◎ SHOW NAME: Taipei Intelligent Machinery & Manufacturing Technology Show (iMTduo 2018)
formerly known as Taipei Manufacturing Technology Show (MTduo)
◎ SHOW FREQUENCY: Biennial
◎ SHOW DATES: May 9-12, 2018
◎ SHOW HOURS: 9:00a.m-05:00 p.m.
Trade & by Invitation also open to public by ticket.
※ Children under 12 are not admitted to the showground.
◎ ORGANIZERS: Taiwan External Trade Development Council (TAITRA)
Taiwan Association of Machinery Industry (TAMI)
◎ VENUE: Taipei Nangang Exhibition Center, Hall 1, Ground Floor
Add: 1, Jingmao 2nd Rd., Nangang District, Taipei 11568, Taiwan
CENS E-Magazines
2018-08 Edition

Taiwan Machinery carries in-depth reports on the latest developments in Taiwan's machinery industry, with detailed info...(more)

Free SampleView Ebook

2018-04 Edition

TIS is Taiwan's most complete listing of manufacturers of industrial parts, components, and accessories, containing aro...(more)

Free SampleView Ebook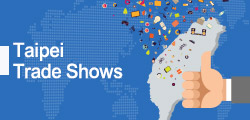 ©1995-
2006
Copyright China Economic News Service All Rights Reserved.