CIMT - China International Machine Tool Show

Show Date:
2019/04/15~2019/04/20
Show Place:
China International Exhibition Center (New Venue)
88 Yuxiang Road, Tianzhu, Shunyi District, Beijing, China
CENS Booth:
E8-A203
Official Website
Exhibition Dates & Hours:
April. 15-20,2019

Show Scale:
Expected more than 1700.

Exhibitors' Countries or Regions:
Ireland,Austria,Australia,Belgium,Germany, France,Finland,Korea,Holland,Canada,Czech, Luxemburg,United States,Norway,Japan, Portugal,Sweden,Switzerland,Slovakia,Taiwan,Turkey,Spain,Hong Kong,Israel,Italy,Singapore, United Kingdom and China.
Main Themes:
Metal Cutting Machine
Metal Forming Machine
EDM
Laser Processing and Other Non -Traditional Machine Tools…
Visitors:
(2017) 125,500 international visitors from 82 countries.
Organizers:
China Machine Tool & Tool Builders' Association (CMTBA)

CENS E-Magazines
2019-08 Edition

Taiwan Machinery carries in-depth reports on the latest developments in Taiwan's machinery industry, with detailed info...(more)

Free SampleView Ebook

2019-6 Edition

TIS is Taiwan's most complete listing of manufacturers of industrial parts, components, and accessories, containing aro...(more)

Free SampleView Ebook
Booth: E4-A114-3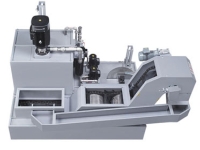 * Specially designed for separating cooling fluid from metallic filings. * Multi-filtering-drum mo
©1995-
2006
Copyright China Economic News Service All Rights Reserved.