TECHNOLOGY, R&D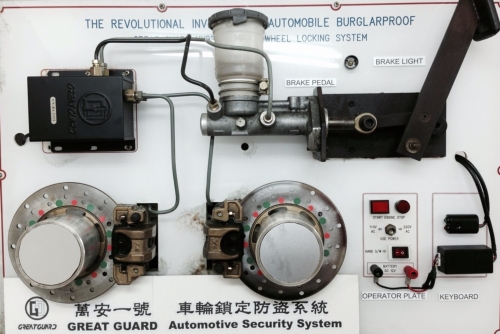 Braking System
The design of G-367RA adopts mechanism of mechanical motion. It is made up of a set of precision mechanical valve and micro-chip controlled system. By enter a personal 4-digital code recognition system, the speed is decelerated through a reduction gear system power is transformed to close or open the hydraulic valve. The pressure is accumulated or released by the valve causes the brake of the wheels to be hydraulically locked or released. Therefore, it is the most safety and effective ways of anti-theft function of Great Guard G-367RA.
The function of G-367RA is totally based on the precision mechanical valve unit. The micro-chip system is used only for password recognition in order to unlock or lock the valve. There's no power consumption during the time of driving or in alert. Because the system is totally in mechanical of mechanism motion, therefore, it is the most primitive and safety design product.
The mechanical valve of G-367RA is installed between the pipes of master cylinder (brake system) and brake disk(or drum brake). Before starting the car, the mechanical valve is opened, the brake oil flows bidirectionally. Because there's no power supply of the micro-chip system while driving, owners don't have to worry about mechanical locked. During the alert, the mechanical valve is locked, and no power is consumed. Due to check valve mechanism, once the thief breaks in the car and presses the brake pedal, the brake fluid passed from the master cylinder, through the valve to the disc brake, and the pressure accumulated and locked the wheels. Because there is no change of original design of the car system, the pressure is totally depends on the primitive design of the brake system.
The micro-chip of G-367RA works only during lock and unlock the system (Car is in static state) for password recognition. The operating time is 3 seconds and the power is 0.4A. The power is cut off during driving and in alert, and the owner's password is memorized permanently without any power.
G-367RA won the patented right in many countries all over the world. It has passed the severe test through Industry Technology and Research Institute (ITRI) and proved of its excellent characteristic. It has won also CE and TUV approvals. During it was available in market for the passed tweenty-three years, it has been installed 100,000 sets just only for BMW and BENZ.
The Characteristic of G-367RA:
1.Superb protection. (an active anti-theft system)
2.A patented precision mechanical valve, hydraulic wheel locking system.
(it is unable to be driven away even if the engine is started or car keys been copied)
3.No power consumption during alert state. (to ensure the life of car battery)
4.No noise pollution. (to comply with the environmental protection regulation)
5.4-digit personalized code. (owner replaceable, key is not afraid to be copied when valet)
6.Operation buttons. (when IR remote controller is out of battery, operation button is available to unlock the system)
7.Independent control system. (without connected to any primitive car circuit to ensure driving safety)
8.Low battery detection. (when the voltage of the battery lower than 10.5V, immediately sound warning)
The installation of G-367 system
| | |
| --- | --- |
| | With Great Guard G-367, an efficient anti-theft system, user's cars are guaranteed safe and sound. Great Guard G-367 stops burglars from moving or robbing cars. The system cut of its own power while the engine is started(for the driver's safety), ensures life of car battery, uses independent control system, and prevents malfunction from power circuit damage. With a 4-digit code (can be changed by owners), Great Guard G-367 is the best safe guard against car theft. |
Company:
GREAT GUARD INDUSTRY CO., LTD.
Address:
12F., No.520-3, Sec. 4, Ren'ai Rd., Xinyi Dist., Taipei City 11073, Taiwan
Telephone:
886-2-2784-8899
Fax:
886-2-2784-7799
E-Mail:
URL:
www.greatguard.com.tw
www.facebook.com/greatguardindustry
www.cens.com/greatguard

Send inquiry to this company