Yung Chi Industry Co., Ltd. is promoting a cutting-edge tool-its TC-150 C-clamp cutter for professional users. The cutter is an ideal tool for cutting soft-metal pipes and plastic pipes in diameter ranging from six millimeters to 67 mm used in plumbing systems, as well as refrigeration and air-conditioning systems.

The tool boasts several advantages including its lighter body as compared with usual types, quick clamp mechanism, and de-burring cutter. Its body is built with aluminum alloy processed with die-casting methodology, making it a durable and light tool. The tool is equipped with a sliding cutter so that it can quickly clamp and release workpiece.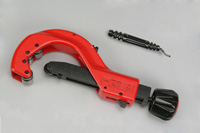 Yung Chi was founded in 1969 as a contract supplier of parts for machines and tools. Today, it supplies over 120 tools including tubing cutters, mini-type tube cutters, pipe cutters, double flaring cutters, flaring/cutting kits, C-clamps, bending tools, de-burring tools, wrenches, pullers, and so on.
The ISO9001:2000-certified manufacturer does molding, tooling, assembly, and packaging at in-house factory in central Taiwan. Also, it imposes stringent quality control on its production.
The company's products have gone to Europe, America and Japan with its brand name "Maxclaw" or customers' brand names.
Yung Chi Industry Co., Ltd.
No. 336, Huan-Ho Rd., Wuri Hsiang 414, Taichung County, Taiwan;
Tel: 886-4-2337-7969, 886-4-2337-9679;
Fax: 886-4-23377818;
E-mail: roger@maxclaw.com.tw.
Website: www.maxclaw.com.tw.