Sunco Pneumatic Tools Co., Ltd., established in 1991 in Taichung County, central Taiwan, has been specialized in fabricating and exporting pneumatic tools and has built an own brand Sunco.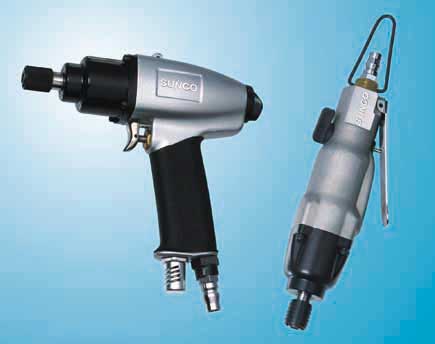 Sticking to stringent quality control, Sunco's pneumatic tools, including air nailers, air bradders, air pinners, framing nailers, coil nailers, air screwdrivers and roofing nailers, all feature stable quality, durability and safety, and have been certificated by CE standards and protected by more than 35 patents in Taiwan and China. Besides, Sunco provides one-year warranty liability for all of its products.
Also, the company is good at R&D, particularly focusing its effort on function upgrading, such as high rotation speed in its air screwdrivers. This makes its pneumatic tools are well received in foreign markets for DIY (do it yourself) tools, such as the U.S., Europe and Asia.
To achieve comprehensiveness of its product lines, Sunco has moved to provide OEM (original equipment manufacturing) and ODM (original design manufacturing) production, in addition to OBM (original brand manufacturing) production. The move is expected to help Sunco build a solid name in the global market in the future, according to the company. (SC)
Sunco Pneumatic Tools Co., Ltd.
No. 61, Tsaushi E. Rd., Tali City, Taichung County, Taiwan
Tel: 886-4-2492-1343
Fax: 886-4-2492-4684
Email: bao.yeong@msa.hinet.net
Website: www.sunco.com.tw