Having been engaged in the manufacture of display racks and stands for more than 15 years, Taiwan Display Fixtures Co. has been regarded as one of Taiwan's leading manufacturers in the field.

In addition to various racks and stands, the company also produces furniture hardware fixtures, hooks, and grid wall accessories, etc. Besides, the firm welcomes special orders for related items from customers.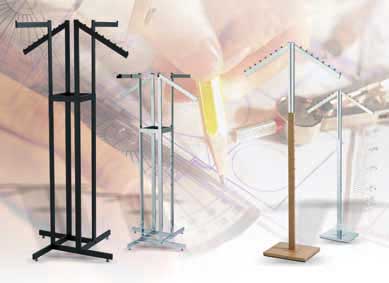 Currently the company has 200 employees working at the main factory with an area of 40,000 square feet, handling every manufacturing step from the drawing of designs and the selection of materials to cutting, bending, polishing, assembling and packaging. Besides, the company also has an automatic powder coating factory and a chrome factory handling surface treatment of its products.
With quality materials and advanced manufacturing technologies, the company's products have won pretty good reputations in markets at home and abroad. (JL)
Taiwan Display Fixtures Co.
No. 3, Taiming Rd., Beili Village, Wujih Hsiang, Taichung Hsien, Taiwan
Tel: 886-4-2335-8279
Fax: 886-4-2335-8289
E-mail: tdf@taiwandisplayfixtures.com
Website: www.taiwandisplayfixtures.com