Various events that have transpired in China over the past few months hint at the beginning of structural changes that are likely to force many exporters of automotive parts in China, who already operate with relatively-slim margins, to come up with strategies more creative than mere underselling via adopting cheap labor and other cost-cutting measures. One such policy change is that the Chinese government will continue slashing the percentage of export tax refund, leading exporters to shoulder heavier operational costs. Also, several new environmental-protection policies reportedly to be formally announced this year will inevitably further burden production costs of auto parts manufacturers.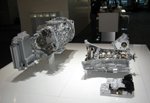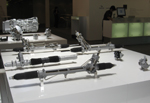 The auto parts makers and exporters may have even tougher time to stay afloat after the introduction of legal requirements for labor contract since early 2008, measures that aim to strengthen labor welfare. The fact is that thousands of companies, which had been staying in the game via generating paper-thin margins mostly accomplished by hiring low-cost labor, can hardly survive the increased labor costs caused by the new labor contract.
The above changes and ripple-effect thus created would likely lead to changes in China's investment environment, as some industrial observers boldly predict; however the defense strategies to be adopted by the auto parts exporters would probably help, perhaps in the short term, China shed at least partially its notoriety for being a global market-share raider via supplying cheap and poor-quality products.
The above new policies would benefit China's auto parts sector in the long-term as turning out greener items is simply better for the ecology, although they would pose short-term impact on those makers in China which used to struggle for survival by earning slim profit margins.
2007 Exports
No matter how China's auto parts industry would change in the future, it maintained remarkable export growth in 2007 despite the weakening international market. In 2007, the annual auto parts exports hit a record high of US$29.497 billion, accounting for 72% of the total exports of China's automobile industry. According to the Machinery & Electric Products Export Guidance in China, outbound shipment of the four major categories of engines, auto parts & accessories, tires, and other auto-related products amounted to US$1.185 billion, US$15.594 billion, US$6.243 billion, and US$6.475 billion in 2007, respectively up 53.41%, 35.38%, 36.83%, and 37.8% from the previous year.
A noteworthy phenomenon behind the impressive overall auto parts export is the soaring shipment of certain key components such as shock absorbers, transmissions, air bags, and drive axles, which each exceeded US$100 billion in annual exports in 2007-shock absorbers (US$366 million, up 1.1 times), transmissions (US$262 million, 2.2 times), air bags (US$192 million, 1.1 times), and drive axles (US$122 million, 1.7 times). Such performance shows the potential of China's auto parts makers to supply products made with higher technology.
2007 Imports
Comparatively, auto parts imports grew at a slower pace with an annual amount equivalent to only a half of exports-roughly US$15.2 billion in 2007. Auto parts took up 59% percent of the annual imports of China's auto industry in 2007.
Among the four major categories of engines, auto parts & accessories, tires, and other auto-related products, the last category was the only exception which recorded a decrease in imports of 2007. Imports of this category dropped 7.22% in 2007, worth US$727 million only.
Whereas, the other three maintained steady individual growth-engines up 24.69% (US$1.533 billion), auto parts & accessories up 15.45% (US$12.821 billion), and tires up 5.37% (US$205 million).
Imports of key components, however, grew faster than exports, reflecting the rapid growth of the auto-making sector in China where most still rely on imports for key components. In 2007, imports of engines nearly doubled from the previous year while air bags, drive axles, and shock absorbers all recorded more than twice the growths, with an annual import amount of US$335 million, US$138 million, and US$202 million, respectively.
WTO Ruling
China, however, is considered taking protective measures to curb imports of auto parts. In mid-February, China suffered its first defeat at the World Trade Organization (WTO) where the Dispute Settlement Panel ruled that China's minimum local content requirement of 60% for home-produced cars violated free trade principles. In China, a carmaker assembling a car with more than 40% imported parts would be subject to the same high tariff as a ready-to-drive import.
It's in 2004 when the EU teamed up with the U.S. and Canada in filing a complaint to WTO, saying that China broke the rules by stipulating the minimum local content 60% for a locally-made car. The three trade powers argued that "It discourages automakers from using imported parts for vehicles they assemble in China." As a result, they said, "foreign car parts makers had an incentive to shift production to China, costing Americans, Canadians and Europeans their jobs."
After more than three years of investigation, the dispute settlement panel found that the Chinese measures "put imported auto parts at a disadvantage to domestic counterparts." The panel, in its final message to Beijing early this year, requested China to revise its practices that violate free trade rules. Despite the decision being only an "interim ruling," no panel has ever changed its findings for its final decision.
Not Intended to Discriminate
China, which can appeal, defended itself by saying that the 60% minimum local content requirement for home-produced cars aims to prevent tax evasion by makers who import whole cars for parts to dodge higher tariffs. Though China claimed that its local-content requirement does not intentionally discriminate foreign auto parts suppliers, it may face retaliatory sanctions if it fails to rectify its rule according to WTO principles.
After the ruling is finalized this year, the WTO will give Beijing a reasonable grace for legislative changes. The WTO rule is widely expected to urge China to further widen its doors to foreign auto parts, and at the same time may motivate China's auto parts makers to gradually wean itself from excessive reliance on imported key parts by upgrading and adopting advanced technologies.
Despite such "protective measures," China continued to import increasingly more critical components in recent years: The U.S., for example, exported some US$840 million of auto parts to China in the first nine months of 2007, up 38% from the same period one year earlier, according to the U.S. Commerce Department.