Hydroforming, a cost-effective way of shaping malleable metals such as aluminum into lightweight, structurally stiff and strong pieces, is often used in top-end shaping of automotive body and chassis parts. Noteworthy is that hydroforming is able to form complex shapes with concavities, difficult or impossible with standard solid die stamping. Apparently this advanced technique has been used in Taiwan's bicycle making sector, while the MIRDC in Taiwan is ready to promote hydroforming to other manufacturing sectors on the island, helping Taiwan upgrade industrial strength and global competitiveness.

The unsung hero behind the scenes in the latest initiative is the Metal Industries Research & Development Centre (MIRDC), a non-profit organization established 45 years ago to engage in R&D of leading technologies related to metal and industries in Taiwan. Funded by the government, the MIRDC has helped many key lines on the island as basic metal, metal products, machinery, electrical and appliances, vehicular equipment, precision instrument etc.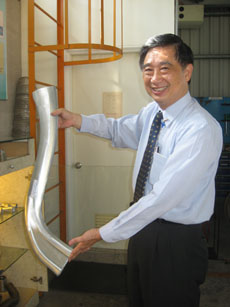 Paul Chung, vice president of MIRDC, expects hydroforming technology to bring new life to local powersports industry.
Dr. Paul Chung, vice president at MIRDC, envisions a very clear roadmap to share the center's hydroforming R&D capability with the local powersports sector, with his brimming confidence buoyed by having successfully introduced such advanced forming technique to the local bicycle line.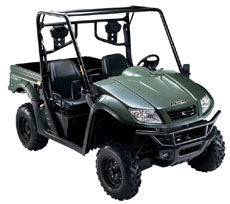 Many parts of an UTV can be hydroformed, Chung says. (photo courtesy of KYMCO).
"Taiwan led the world to utilize hydroforming to manufacture tubular bicycle parts in the local sector, which continues to benefit in technological advancement and business over the past few years from such molding technique," Chung claims. "The significant success achieved so far has been driven by the already-advanced tube-making sector on the island as well as a group of globally competitive bicycle and parts makers with established brands."
The effective adoption of hydroforming by the above tube, bicycle and parts makers in Taiwan, according to Chung, has turned Taiwan into the world's only nation with total mastery to form tubular bicycle parts, including frame, into all kinds of shapes and structural designs. Such successful adoption, Chung believes, of hydroforming has enabled the local cycle making sector to make quantum leaps in industrial upgrading, as well as help suppliers to carve new market niches and build products with higher added-value.
MIRDC's Role in Hydroforming
According to Chung, hydroforming is an attractive alternative to conventional matched die forming, especially for cost-sensitive, lower volume production, and for parts with asymmetrical or irregular contours.
Superior in many ways over traditional forming technologies, hydroforming, the vice president adds, offers inexpensive tooling, versatility in forming complex shapes and contours, minimal material cost, fewer production processes, savings in finishing costs, materials versatility, high precision, strength, and performance, ease of design change or product innovation, etc.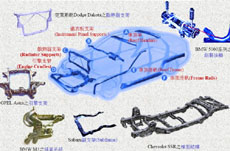 Existing hydroforming applications in PTW industry.
MIRDC, according to Chung, was the earliest R&D body in Taiwan that started to study hydroforming technology development seven to eight years ago, foreseeing the potential of such technology to build structural parts as strong as traditional means but lighter, making it a worthwhile tool in light of increasingly serious energy shortages.
"Though it was quite long ago, we recognized that all kinds of vehicles would have to be made lighter for better fuel economy," Chung recalls, "and hydroforming was an emerging technology with excellent potential at that time, lending itself ideally as the next technological step with MIRDC being specialized in metal and related manufacturing techniques."
Making Hydroforming Affordable
Chung also recalls that hydroforming equipment was too expensive for most local makers seven or eight years ago, so MIRDC immediately partnered with a leading local machinery maker to develop the first hydroforming machine on the island, taking about two years, and then worked with Taiwan's largest bicycle maker Giant Manufacturing Co., Ltd. to cultivate new market for such technology. About four to five years ago, Giant launched the first commercialized bicycle with a hydroformed frame: the high-end Revive comfort bike.
"By introducing and putting hydroforming within reach of the island's globally competitive bicycle industry, MIRDC not only successfully carved a new niche market for Taiwan," claims Chung, "but also seeded a new business model that will grow cross-industry to benefit other lines."
MIRDC, as a R&D center, says Chung, can play key roles in further building the local hydroforming industry, the first of which is help local companies build expertise in production processes and tooling as well as learn to integrate other production techniques and materials.
Adding New Dimensions to Cycles
The bicycle industry, for example, Chung explains, has run into limitations in product design and market appeal when adopting aluminum, magnesium, aluminum or carbon materials. "But hydroforming can effectively help cycle making literally break the mold-enabling the forming of radically different shapes and styles from traditional designs, such as multi-facet frame and handle bars available now or never-seen styles plus electric propulsion, folding functions etc.," Chung says. "Hydroforming will allow more and more makers in Taiwan to turn increasing numbers of key mechanical parts into exterior or even cosmetic parts on vehicles-a real value-added progress."
The second role MIRDC aims to play is to cooperate with more and more local machinery manufacturers, who also are already globally competitive, to build hydroforming equipment with more advanced functions but at lower cost.
The third role, according to Chung, is to more aggressively introduce hydroforming to various local industries, such as the automotive and powersports sectors.
Endless Possibilities
Chung, in fact, is brimming with ideas to apply hydroforming to various industrial applications, showing the endless possibilities for such technique.
For example, the vice president says that MIRDC is trying to use hydroforming to save weight and change styling design in the powersports sector, with such forming technique to be used on electric propulsion systems to create new, innovative applications.
One such target vehicle is the increasingly popular utility vehicle (UTV or side-by-side), a light utility vehicle with four or more wheels driven by mainly all terrain vehicle (ATV) powertrains. According to Chung, many parts of a UTV structure can be hydromformed for lighter weight and enhanced styling.
Breaking New Ground With CRM Steel
"MIRDC also has many on-going projects related to hydroforming," Chung points out. "For example, traditional chrome-molybdenum (CRM) steel is more easily formed than even aluminum but no one uses such steel to make new structures. But CRM steel can be hydroformed beautifully, so much so that even structural frames can be left exposed outside of an UTV, a motorcycle etc. So MIRDC is trying to cooperate with local China Steel Corp., the largest steel supplier in Taiwan, to develop new steels that can be hydroformed even more easily, which is expected to be the world's first."
"With increasingly more companies in Taiwan focused on production of UTVs," Chung comments, "what they need is to enhance global competitiveness rather than only concentrate on marketability. This is where MIRDC and its hydroforming expertise can help UTV makers to not only realize weight savings in vehicle design but also create unlimited possibilities in styling and structural design in the future, just as what we did for the local bicycle industry a few years ago."
Rosy Outlook in Auto Parts Sector Too
Another potentially promising opportunity for the local hydrofoming sector is the auto parts business, Chung points out. Currently, the annual automobile production volume globally is about 60 million units, about 40 million of which are produced in Europe, the U.S. and Japan while the remaining 20 million in other regions. In 10 years, such volume is expected to reach 75 million units, with only about 30 million to be produced in Europe, the U.S. and Japan, while the balance in other regions, especially Asia.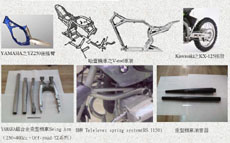 Hydroforming applications in automotive line.
"Such geo-global shift in auto-manufacturing is generating lucrative business opportunities for auto-parts makers with strong technical and integrated developmental capability," Chung says, "including those with hydroforming ability."