Wu Shyh-biau, chairman of the Jiin Haur Industrial Co., cuts one wooden twig after another into neat pieces, demonstrating how easy it is to do orchard work with his company's pruner.

"This is what quality shears should be like," Wu comments, "leaving no cracks or chips on the cut ends and having a comfortable grip. Most importantly, the two blades should never come apart when they come in contact with the hardest part of the twig."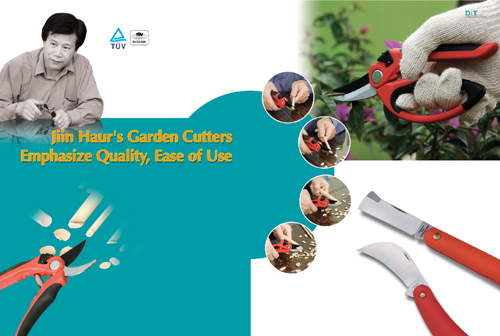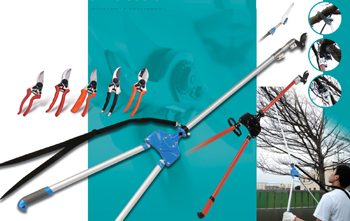 Developing a quality garden pruner is not difficult for Jiin Haur, which has been making them since its establishment in 1977. "All of the quality manufacturers in this field are the result of rich experience and dedication," Wu says. "Also, we use 3D computer-aided design to locate the precise locations of the three points-the joint of the blades and their two separate tips-so that cutting force can be transmitted to the points evenly for a perfect cut."
Wu's firm is Taiwan's biggest maker of garden cutters, turning out about millions of them in around 40 different categories per year. Most are for DIY users, but 70% are designed for professional orchard workers and made from imported high-carbon steel to assure durability.
Jiin Haur started out making household scissors, but after a few years it switched to garden cutters. Today it supplies mostly original design manufacturing (ODM) products, with a small portion being marketed under the company's own "PRAISE" brand.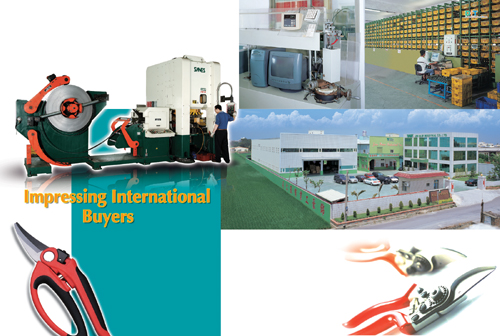 Its outstanding design capability has won the firm more than 100 patents in recent years, mostly involving ergonomics and external design. One of the patents is for the JH-605 telescoping lopping shear, said to be the first dual-handle lopping shear in the industry. Most manufacturers, Wu claims, continue to provide single-handle shears that require the pulling of a rope to cut.
Users of the JH-605 cut by manipulating the two handles, made easier by a gear mechanism at the joint. The telescopic arm can extend the length of the shear from 180 to 240 centimeters from tip to grip. It is ideal for cutting branches up to 35 millimeters thick.
Innovative Lubrication
Among Jiin Haur's other outstanding products is a ratchet pruner with a blade-lubrication device on the end of the handle: a small oil-soaked sponge stuffed inside a button-sized capped hole. Among its new products is a pruner with a blade that can swivel 90 degrees to either side, and a pruner with handle grips that rotate inward when squeezed to maintain maximum pressure with minimal muscle strain. "All of these products," Wu emphasizes, "share the characteristic of user comfort."
A few years ago the company introduced its first power tools: electric hedging shears. They are available in two models, one with a telescoping handle and the other with a short handle. Both have rechargeable batteries. All of the power tools have safety certification such as GS, VDE, UL, and CE.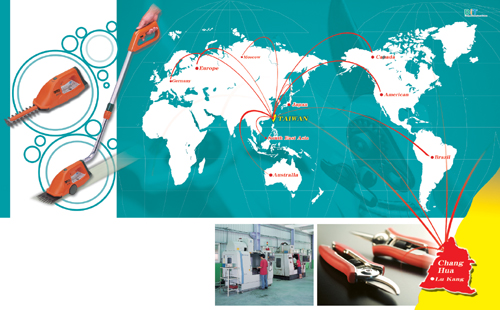 Three specialists, one of whom is Wu himself, provide Jiin Haur's impressive design capability with the help of computerized hardness testers, mold-building equipment, and 3D computer layout programs. Wu stresses that a company should not use its design capability to develop products based on its ideas alone, but also to help buyers solve their design problems.
The design capability of Taiwanese garden-tool makers, Wu claims, far exceeds the expectations of international buyers. "The most significant design variation is in the grips," he explains. "But however the grips change, they must never depart from the principle of force conservation." For this reason, grip sizes are designed to be different for different markets with varying hand sizes.
At least NT$10 million (US$312,000 at NT$32:US$1) is spent on the development of molds for five or more new items each year. The company sometimes contracts design work to local layout houses, but manufacturing is never outsourced because "the outside manufacturers might leak our design secrets or those of our customers to our competitors."
To ensure quality, Jiin Haur makes its tools of steel from Germany, Switzerland, and Japan. Hand grips and other parts are made of non-toxic plastic materials.
Most of the tools are designed for users in Europe, the United States, Russia, and Southeast Asia. Asia, Wu reveals, remains a relatively insignificant market for his company.
International big retailers are among the company's customers and to impress such heavies the company has worked hard to modernize by automating production.
Impressing International Buyers
"Many of Taiwan's tool makers need these things today," Wu stresses, "because international buyers have started to bypass middlemen and come directly to manufacturers to keep costs down. We need to impress them with a good-looking office building."
The foreign buyers place most of their orders in the summer to provide for the fall and spring buying seasons. Big retailers send representatives to inspect Jiin Haur's factory before deciding to renew their procurement contracts every year.
Jiin Haur sits on a 5,610-square-metere site surrounded by paddy fields in the central Taiwan county of Changhua. The main glass-screen building here contains a showroom and two plants with computerized numerically controlled (CNC) lathes and punching machines as well as an automated warehousing system for storing semi-finished parts.
"Automated machines have helped us cut labor costs by about 30%," Wu comments, "and they've greatly boosted our production efficiency. Most importantly, they assure consistent product quality. The warehousing system allows us to make prompt deliveries and alleviate inventory risk."
The warehousing system handles over 1,700 parts in 1,000 boxes on a huge metal shelf. When the operator chooses a part, a simple click on the computer sends a command to retrieve it.
Wu now plans to cut labor costs even further by installing automatic feeding machines so that the company's work settings are more pleasing.
Already, automation has allowed Wu to largely dwindle workforce. Only a few are needed to operate the automated machines; most of the workers handle assembly, packaging, and quality control. "Thanks to our automated machinery and strict quality control," Wu reports, "we've reduced our defect rate to nil even prior to the final check."
Wu insists on meeting twice a day with his quality control people, who check semi-finished parts at supplier factories, finished products on Jiin Haur's own production lines, and assembled products waiting to be packaged. "We don't just spot-check our products," Wu says. "We check them all." This attention to quality has helped the company earn ISO-9001 certification.
JIIN HAUR INDUSTRIAL CO., LTD.
No. 133, Chiukang Lane, Lukang Town, Changhua Hsien, Taiwan 505
Tel: 886-4-777-3339
Fax: 886-4-778-8129
http:// www.jiinhaur.com.tw
E-mail:jiinhaur@jiinhaur.com.tw