Since its inception in 1977 in Changhua County, central Taiwan, Jiin Haur Industrial Co., Ltd. has been devoted to production of garden cutters mainly on an ODM (original design manufacturing) basis.

With a history of more than 30 years, Jiin Haur is Taiwan's biggest maker of garden cutters, with annual production volume of several million pieces in over 40 different categories. The company's garden cutters are most made of imported high-carbon steel to assure durability and meet TUV/GS standards.

Jiin Haur's product portfolio, with a small portion sold under own brand PRAISE, covers long-reach pruners, pruning shears, grass shears, tool racks, drop-forged pruners, razors, scissors and related garden cutters. The company also provides a series of power tools, such as battery-powered motorized shears and cordless screwdrivers, which are all certificated by GS, VDE, UL, and CE standards.

As proof of the company's R&D talent, its effort-saving pruning shear series feature improved structure for effort-stingy functions. The company's shear is designed with two handlebars working with a connecting gear in a lengthy, stretchable body, which can extend the length of the shear to 180 to 240 centimeters from tip to grip. (SC)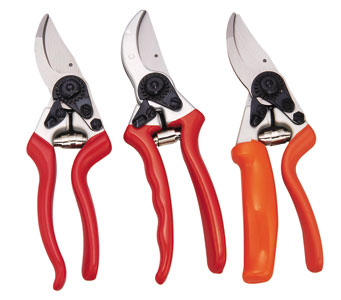 Jiin Haur`s PRAISE-branded garden cutters are well received in the global market.
Jiin Haur Industrial Co., Ltd.
No. 133, Chiukang Lane, Lukang Town, Changhua Hsien, Taiwan
Tel: 886-4-777-3339
Fax: 886-4-778-8129
E-mail: jiinhaur@jiinhaur.com.tw
Website: www.jiinhaur.com.tw