Obviously a believer in the merits of product diversification, Stand Tools Enterprise Co., Ltd. has invested four years of time and effort in developing the world's first digital torque wrench with a MEMS (micro-electro mechanical systems) sensor, even able to build in-house the electronic component. Such success has effectively remade the company-turning it from a typical maker of traditional tools to an innovative tool maker capable of integrating high-tech features.



Stand Tools began as an OEM (original equipment manufacturer) of ratchet screwdrivers in 1988 in Taiwan's central county of Taichung, and later diversified into producing magnetic tools. The company's current product range includes ratchet screwdrivers, magnetic tools as magnetic holders for impact wrenches, multifunctional magnetic holders, magnetic boxes, magnetic hangers, magnetic cane hooks, magnetic sweepers, magnetic trays, and related products.
The company has a solid reputation for R&D capability-able to build ergonomic and mechanical efficiencies into products to enhance functionality. Having won honors at Taiwan's 10th and 14th National Invention Prizes in 2001 and 2005, as well as the 11th Annual Small and Medium Enterprise Innovation Research Award in 2004, Stand Tools is now one of the world's most renowned ODMs (original design manufacturers) of ratchet screwdrivers and magnetic tools.
World's First
Stand Tools has done what his peers would not do normally-venture into foreign territory by trying to develop hand tools integrated with microelectronics. The single-minded dedication has paid off with the company's successful creation of the world's first MEMS-integrated digital torque wrench.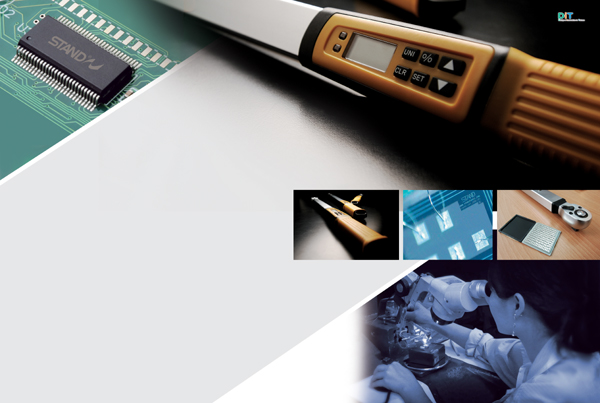 The brains and manpower behind Stand Tools' persistent program to develop an MEMS for a digital torque wrench are the team of two brothers: Alston, Calvin, and Brand Hsiao, respectively the directors of the engineering department and sales manager. Backed by their formal training in electronics and marketing, coupled with ample passion, the three-brother team eventually turned an innovative idea into reality.
Long Journey
"The MEMS sensor-integrated digital torque wrench has been more than four years in the making," says Alston. "It was really a tough, costly and time-consuming project that involved plenty of knowledge in electronics, microelectronics, material mechanics, physics and chemistry. Not only did we have to brainstorm to apply different theories and know-how related to the newest micro-fabrication technologies to produce traditional hand tools, but also navigate in strange waters without precedents. It was a matter of making done with existing, limited resources and teaming up with other industries."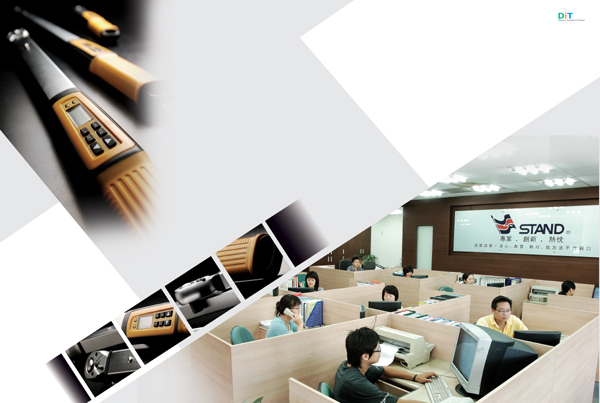 Major changes in production methods for the MEMS-integrated digital torque wrench had to be made along the way. Jason Hsiao, president of Stand Tools, says that tweaking processing methods as heat treatment, drilling and milling were touch and go. As MEMS is a very precise and sophisticated microelectronic component, so even miniscule defects in either size or finish of a wrench would impact its proper function.
Initially no one believed in the practicality of integrating an MEMS in a torque wrench, but Stand Tools is proving the detractors wrong.
MEMS Upgraded
The point of integrating MEMS in a torque wrench is to enhance the degree of precision of the tool. MEMS is the integration, via micro-fabrication technology, of mechanical elements, sensors, actuators, and electronics on a single silicon substrate, which can collect information from the environment through measuring mechanical, thermal, biological, chemical, optical and magnetic phenomena more precisely and accurately. Stand Tools adopts MEMS as an alternative to strain gages to upgrade a torque wrench so as to tap the microelectronic component's higher precision.
Alston Hsiao says that strain gages were invented during WWII for military use, and today are commonly applied in digital torque wrenches to measure strain as the wrench is used; but there are drawbacks to strain gages.
"Generally, a digital torque wrench needs four strain gages to work, with each gage glued to the sides of a wrench body very firmly, evenly and precisely," Alston Hsiao says. "Besides, strain gages are usually housed in plastic, and hence are easily affected by ambient conditions as temperature. Even minor deviations would compromise a strain gage's accuracy. In short, a maker cannot easily control quality."
However, MEMS effectively skirts such disadvantages. Made with advanced production processes, the microelectronic sensor has excellent accuracy and is literally impervious to environmental factors. In other words, Stand Tools' MEMS-integrated digital torque wrench measures strain more precisely and reliably than strain gage counterparts, and are ISO6789 compliant. Plus the efficiency of MEMS means Stand Tools' wrench consumes a tenth the electricity as competing models.
In addition, Alston Hsiao says, Stand Tools' torque wrench is more cost-efficient for needing only one MEMS sensor instead of four strain gages; while the simplicity in design also effectively reduces defect rates but enhances measuring accuracy.
Promising Outlook
Believing that MEMS-integrated digital torque wrenches will totally replace torque wrenches of mechanical model in the future, Stand Tools is very confident of the market prospect.
"A conventional mechanical torque wrench has numerous parts of increasingly expensive metals. But Stand Tools' digital torque wrench needs only one MEMS sensor, which is mainly made of silicon, derived from an ubiquitous material on earth, while its structure and production processes are simpler than those of a mechanical model," Brand says.
Such cost and production efficiencies allow Stand Tools to pass savings onto buyers in the form of competitive pricing. And a desirable byproduct is the wrench's eco-friendliness for using relatively less metallic resources in its production. "Stand Tools is going to focus promotion in the B2B (business to business) market because MEMS-integrated digital torque wrenches feature an innovative concept and cost efficiencies, advantages that enable customers to outsell rivals in downstream markets." Alston Hsiao says.
Currently the MEMS-integrated torque wrench is available in three different sizes, and Stand Tools will keep developing more digital torque wrenches to fill OEM and ODM orders.
Versatile Minded
Engaging in technical R&D often produces unintended rewards. For example during its intense development of MEMS, Stand Tools worked on vacuum plating and SMT (surface mount technology) techniques, which the company later applied to producing LED (light-emitting diode). Then the company launched its first LED Multi-function Inspection Tool series, which have proven very popular.
Another offshoot of Stand Tools' MEMS achievement is its plans to apply the microelectronic gage to measure pressure for bicycle repair tools and car jacks. In fact, Stand Tools has already been developing some MEMS-integrated tools and other customized items for bicycle makers.
"MEMS being microsized-1.7mm wide and 2.7 mm long-allows Stand Tools to develop more practical products," Brand says. "The miniscule size of the electronic component sets in motion a revolution to remove any barrier to Stand Tools' ability to expand its product line."
Successfully building an MEMS-integrated torque wrench has allowed Stand Tools to break out the stereotype of a Taiwan-based OEM manufacturer of hand tools. "We are now braving a new frontier as the company aims toward a 'Manufacturer of Ideas'," Jason Hsiao says.