Daiken Tools Enterprise Co., Ltd., established in 1968 in Taichung County, central Taiwan, has been one of the most experienced, dedicated suppliers of pliers on the island.

The company's sustained business development is attributable to its consistent emphasis on product innovations and production capability upgrading for nearly 40 years. At present, the company operates on an OEM (original equipment manufacturing) and ODM (original design manufacturing) basis, turning out a wide range of pliers, including linesman pliers, diagonal pliers, long-nose pliers, plastic cutting pliers, fence pliers, groove joint pliers, cutting pliers and custom pliers for special purposes.

Besides, years of dedication to quality control has seen the company accredited with ISO-9000, VDE, GS and DIN EN 60900 approvals. To assure clients of unbeatable quality, the company has spent considerable money setting up a full line of testing machines in house, such as low temperature testing machine, 10,000-volt insulation resistance testing machine, Vickers hardness testing machine, salt spray testing machine, rubber hardness tester and so on.

Also, its strong R&D capability helped it to earn official recognition with Taiwan Good Design Award in 2001. A display of numerous multinational patents is also testimony to the company's achievement of innovations. (SC)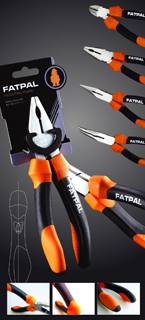 Daiken Tools Enterprise Co., Ltd.
No. 143, Houlai 1st St., Tali, Taichung County, Taiwan
Tel: 886-4-2278-2825
Fax: 886-4-2278-0572, 886-4-2278-0885
Email: sales@daikentools.com
Website: www.daikentools.com