J&K International Co., Ltd., founded in 1985 in Taichung County, central Taiwan, is a veteran maker of hand pullers and related accessories on the OEM (original equipment manufacturing) and ODM (original design manufacturing) basis.

The company began with production of hand pullers and has diversified its manufacturing into a wide range of related products, including tow cables, trailer winches, trailer jacks, tie-downs, luggage cords, hooks, cargo nets, auto accessories, hydraulic cable cutters and crimping tools, hydraulic punch drivers, dog collars and plastic buckles.

Up to 99% of the company's products, with proven quality and safety assurance by TUV/GS and CE standards, have been exported to Russia, Japan, Australia, North American and European countries.

After many years of cooperation with Taiwan's China Steel Corp., MIRDC (Metal Industry Research and Development Centre) and related R&D institutes, the company unveiled its newest HP160D series hand puller, which is made of special composite alloy and with processing methodology for better tension, lightweight and lifespan. In addition to improved ergonomic and structural design for easy-to-use, effort-saving features, the company also designs eye-catching packages for the hand puller to reinforce appeal of visual attraction. (SC)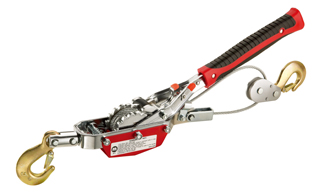 J&K International Co., Ltd.
No. 20, Lane 180, Jingjuang St., Tali City, Taichung County, Taiwan
Tel: 886-4-2496-2255
Fax: 86-4-2496-9265
Email: jk@jktool.com.tw
Website: www.autoaccessory.com.tw