Founded in 1994 to engage in distribution of machinery parts, Sheng Chyean Enterprise Co., Ltd. has ventured into producing specialized bar-making machinery.

The ISO9001:2000-certified company has rapidly evolved into the leading manufacturer of its kind in Taiwan, operating two factories in Taiwan and two others in mainland China.

The company's factory is equipped with state-of-the-art machine tools that can process metallic bars and wires into various configurations. The lineup includes multifunctional drawing machines, multi-functional bar-to-bar cold drawing lines, line-bar machines, metal circular pin/bar stock end chamfering machines, high-speed round bar straightening machines, BK round bar straightening machines, high-speed irregular bar straightening machines, automatic straightening pressers, etc.

Sheng Chyean adopts standardized production processes and efficient mass-production means, which help cut production costs and accelerate delivery.

The company's multi-type bar-extending machine incorporates functions similar to those offered by German and Japanese counterparts, adopts a high-tech computer with Mitsubishi-made controller and touch-type monitor to achieve the best balance between easy operation and high performance. (BS)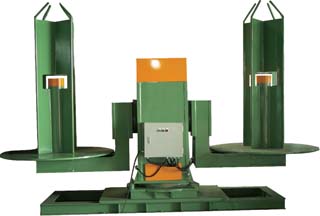 Sheng Chyean Enterprise Co., Ltd.
No. 17, Lane 360, Fudao Rd., Lukang Town, Changhua County, Taiwan 505
Tel: 886-4-774-6666
Fax: 886-4-774-2255
E-mail: chyuan168@mail2000.com.tw,
E-mail: tw.sc@msa.hinet.net
Website: www.tw-sc.com.tw