Certified with ISO9001:2000, Jiin Haur Industrial Co., Ltd. is promoting its 50W LED T-bar lighting fixture, measuring 60cm x 60cm x 7cm. The fixture is outfitted with 672 20mA LED chips built into eight modules.

The lighting fixture delivers color temperature of 6,00K, and total illumination of 1,900 lumens. Covered with a patented diffusion panel using light guiding plate (LGP) technology, the lighting fixture gives off illumination at 100 degrees in angle evenly.

The fixture is made of eco-friendly plastic material, which ensures excellent resistance to magnetic effect and static interference, not to mention its lightweight and good outside look.

The fixtures are available in white, warm white, blue, red and organ types in terms of light color.

The fixture can save 35-40% of electrical power besides long lifespan. (KL)

Jiin Haur Industrial Co., Ltd.
No. 133, Chiukang Lane, Lukang Town, Changhua Hsien, Taiwan 505; Tel: 886-4-777-3339; Fax: 886-4-778-8129; E-mail: jiinhaur@jiinhaur.com.tw and Website: www.jiinhaur.com.tw.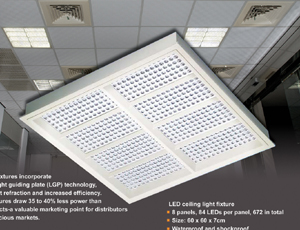 Jiin Haur`s LED T-bar lighting fixture.