Founded in 1984, Autoworld Industrial Co., Ltd. is a very experienced and versatile supplier of a wide variety of aftermarket (AM) replacement parts. Major product categories supplied by the firm include engine parts, electric parts, steering parts, body parts, brake parts, accessories and tools, gas springs, auto glass, tempered safety glass etc.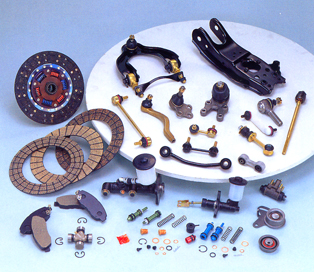 Autoworld supplies a very wide array of quality AM parts and accessories.
The company is very proud of the quality of all its products, which are 100% made in Taiwan. Over the past over 25 years, Autoworld has been actively striving to build a stable and ever-expanding supply network among Taiwan's suppliers of the best-quality parts.
According to company officials, Taiwan is the best place to source high-quality, reasonably-priced auto parts because local manufacturers are globally famous for their unmatched small-batch, large-variety production mode, rapid prototyping, and superior manufacturing and management. As an experienced and specialized parts trader in Taiwan, Autoworld believes that it can offer the most satisfactory services to customers worldwide.
Autoworld Industrial Co., Ltd.
P.O. Box 68-638, Taipei, Taiwan
Tel: (886-2) -2585-8236
Fax: (886-2)2585-8678
E-mail: cartruck@ms26.hinet.net
Website: www.cens.com/autoworld