Jeng Hai Enterprise Co., founded in 1984, has been specialized in the development and manufacturing of cold-rolling and forming machines for metal plates, now capable of turning out a variety of innovative products and technologies and having gained good reputations in the international marketplace.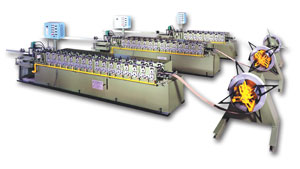 Cold-rolling machine for metal plates developed by Jeng Hai.
At present, the company's major production lines are installed with advanced machinery equipment to secure efficient and quality production, including fully automatic ribbing machine for ceiling panels, fully automatic cold-rolling machine for aluminum ceilings with optional frames, fold-up cold-rolling machine, fully automatic C&Z cold-rolling machine for steel sheets and space frames, and completely automatic spring pin machine. These machines are suitable for rolling out parts for window blind frames and runners, and telescoping tubes and C-frames.
The firm says its cold-rolling machines feature high productivity, outstanding performance and excellent quality, all available at reasonable prices. The firm boasts it is one of Taiwan's few professional manufacturers of cold-rolling machines.
Cold-rolling machines are used to process galvanized steel, coated steel, cold-rolled steel, coated aluminum, bare aluminum and other types of metal sheets into certain forms. Their principal applications are focused on such construction materials like steel sheets, spacer frames, roofing panels, window blind frames and runners, telescoping tubes, telescoping C-frames and other similar materials.
Thanks to its dedication to developing high-performance cold-rolling machines, over the past several years Jeng Hai has built up a broad customer base globally. (BS)
Jeng Hai Enterprise Co., Ltd.
Tel: 886-2-2283-0279
Fax: 886-2-2285-0240
E-mail: jenq.hea@msa.hinet.net
Website: www.jenqhea.com.tw