Wian Jia Machinery Co., Ltd., established in
1989, is one of Taiwan's most professional manufacturers of bicycle/motorcycle components making equipment. With years of development experience, the company is capable of rolling out a wide range of production equipment to fit the need of customers from the bicycle and motorcycle arena.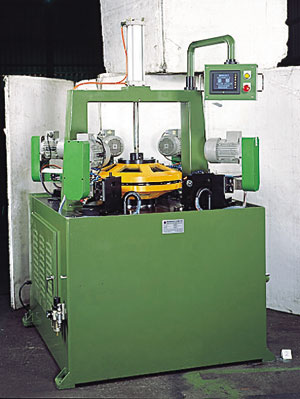 Double-walled Alloy-rim Spoke Hole Drilling Machine
Headquartered in Yuanlin of Changhua County, central Taiwan, Wian Jia has an in-house research and development department in charge of developing innovative products. All the company's products are designed in compliance with the market trend globally.
Thanks to its long-term dedications to developing innovative manufacturing skill, the company has seen many product lines patented in both Taiwan and mainland China.
Currently, Wian Jia's major product lines include nipple heading machines, nipple making machines, spoke tapering machines, wire strainghtening & cutting machines, spoke making machines, automated punching machines, forming machines, aluminum edging machines, among others.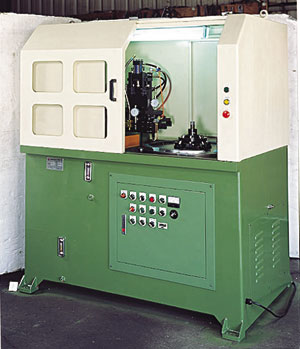 Aluminum Rim Edge-cutting Machine
One of the company's most popular products is the double-wall alloy rim spoke hole drilling machine featuring 16-48 drilling holes, off-angle hole drilling, and irregular-distance drilling functions.
The company's bicycle/motorcycle nipple-making machine features 1,400kgs in net weight and 1,650kgs in gross weight. Packing measurement for the machine is 173 x 167 x 176cm. The machine is suitable for processing spokes with diameters ranging from 1.8mm up to 4mm.
"Our machines are easy to operate because of streamlined design," says Huang Ching-shun, founder and president of the company. "Besides self-designed products, we also welcome original designs provided by customers at home and abroad."
The company says its products are patented in Taiwan and mainland China. Most of the company's output is exported. In addition to domestic market, the company currently concentrates on the markets of mainland China and Southeast Asia. The company's well-noted clients include Shimano Co. and Giant (China) Co.
Since its inception, Wian Jia has never stopped developing innovative products to meet the special need of customers the world over. Huang says his company is now developing another spate of multi-functioned machines that will be soon introduced to the global market. (BS)
Wian Jia Machinery Co., Ltd.
Tel: 886-4-836-9705
Fax: 886-4-836-9915
E-mail: wianjia@ms24.hinet.net
Website: www.wianjia.com