As a professional manufacturer of metal furniture items and accessories, Taiwan Display Fixtures Co., Ltd. has established a solid name at home and abroad for supplying a variety of quality products, including the gamut of display racks, slat wall & grid wall accessories, sign holders as well as various stands.

Currently the company has a workforce of over 200 persons serving at the main factory with an area of 40,000 square feet, handling every manufacturing step from the drawing of designs and the selection of materials to cutting, bending, polishing, assembling and packaging. Besides, the company also has an automatic powder factory and a chrome factory handling surface treatment of its products.

With more than 15 years of experience and a strong R & D team, Taiwan Display is able to take any design-oriented orders and meet customers' special requirements. Besides, the firm offers prompt services to its customers and welcomes inquiries anytime.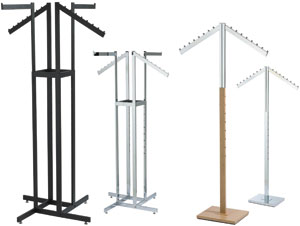 Taiwan Display Fixtures Co., Ltd.
No. 3, Taiming Rd., Beili Village, Wujih Hsiang, Taichung Hsien, Taiwan
Tel: 886-4-2335-8279
Fax: 886-4-2335-8289
E-mail: tdf@taiwandisplayfixtures.com
Website: www.taiwandisplayfixtures.com