Sane Jen Industrial Co., Ltd., founded in 1984, specialized in developing and producing wire folding containers, wire folding trolleys, wire decking, wire shelves, wire stacking frames, steel tube, steel plate and so on. The products made of stainless steel are also available.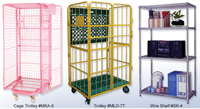 Headquartered in Minhsiung of Chiayi County, southern Taiwan, Sane Jen has established a factory in Shanghai, China in order to meet different customers' special requirements. Its high-quality products have been exported to the international marketplace for over two decades. Thanks to its long-term dedication to developing innovative high-quality products, the company has won good reputations in the global market, especially in Japan.
Its major product lines are foldable wire container, trolley, stacking frame, etc. In addition to self-developed products, the company also accepts customers' orders on the OEM/ODM (original equipment/design manufacturer) basis.
Sane Jen says that its products can be used for logistic and warehouse storage, to display goods in the supermarkets or shops, and is ideal for storage of automobile parts, motorcycle parts, electrical appliances, mechanical hardware, furniture parts and accessories etc.
The company employs a stringent quality-control system in-house to ensure the production of high-quality products. All the products have to pass through safety testing before they are shipped. (BS)
Sane Jen Industrial Co., Ltd.
10, Chung Shan Road, Min Hsiung Industrial Zone,
Min Hsiung Hsiang, Chia Yi County #62154, Taiwan
Tel: 886-5-213-4789
Fax: 886-5-213-4699
Web : http://www.sj-storage.com.tw
E-mail : sj-storage@umail.hinet.net