Day Tay Plastic Industry Ltd., established in 1996 in Taichung County, central Taiwan, has been specialized in manufacturing plastic tubes and stripes as a dedicated OEM in its line.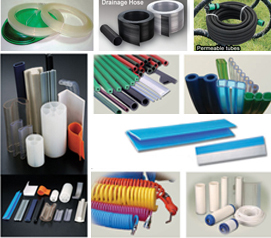 The company turns out a variety of liners, including braid tubes, air hoses, green hoses,filter tubes for water filters, hold-down stripes for printing machines,garden hoses, sprinkler conduits, handbag piping and irregularly shaped rigid and flexible tubes and strips.
Also, Day Tay's 30-year experience in plastic extrusion enables it to consummately apply a variety of industrial plastic materials, including PVC, PE, ABS, EVA, PS, TPU and PP, in development and production of tubes and stripes for different purposes on an ODM basis.
Day Tay Plastic Industry Ltd.
No. 21, Lane 2, Shaitien Rd., Sec. 2, Tatu Hsiang, Taichung County 432, Taiwan
Tel: 886-4-2699-8879
Fax: 886-4-2699-8874
Email: dtc8879g@hotmail.com
Website: www.daytay.com.tw