Wian Jia Machinery Co., Ltd., established in 1989, is one of Taiwan's most dedicated makers of bicycle/motorcycle components making equipment, capable of turning out a wide range of production equipment to meet the requirements of customers from the global bicycle and motorcycle arena.

Headquartered in Yuanlin of Changhua County, central Taiwan, Wian Jia has an in-house research and development department in charge of developing innovative products. The company also ties up with customers to jointly develop special-purpose automated production equipment in its line.

Wian Jia's major product lines include nipple heading machines, nipple making machines, spoke tapering machines, wire straightening & cutting machines, spoke making machines, aluminum alloy bicycle rim production lines, rounding machines, cutting machines, pin-processing machines, aluminum bicycle rims, double-wall alloy rim spoke hole drilling machines, and aluminum edge cutting machines.

The company says it designs and develops the machines based on the specific requirements of customers from around the world. To ensure a low rate of machine defection, the company adopts the most reliable material combined with self-developed sophisticated technologies to roll out high-quality products.

The company says its products are patented in Taiwan and mainland China. Most of the company's output is exported, mainly to mainland China, Southeast Asia, East Europe, the U.S., Brazil, Portugal and India.

Since its inception, Wian Jia has never stopped developing innovative products to meet the special need of customers the world over. It is now developing another spate of multi-functioned machines that will be soon introduced to the global market.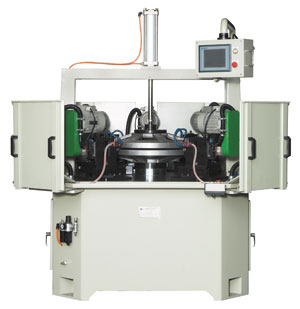 Double-walled alloy rim spoke hole drilling machine produced by Wian Jia.
NC aluminum rim edge-cutting machine.
Wian Jia Machinery Co., Ltd.
Tel: 886-4-836-9705
Fax: 886-4-836-9915
E-mail: wianjia@ms24.hinet.net
Website: www.wianjia.com