S.B. Wu, chairman of garden-tool maker Jiin Haur Industrial Co., recently replaced the fluorescent ceiling lighting in his office, to both save power and prove that his own LED lights work as designed. Jiin Haur Industrial started building LED lights around two years ago to carve out another niche, to evade reckless counterfeiting by mainland Chinese tool makers, who even pirate his "PRAISE" label.

"In addition, rising eco-awareness is definitely building solid markets for LED lighting," adds Wu. A typical 80W fluorescent lighting fixture is 34-40% more energy-efficient than 50W LED counterparts with 84 LEDs, according to the company's test data.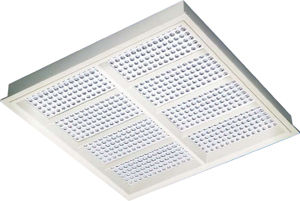 Jiin Haur`s LED ceiling lighting fixture.
The LED lighting fixture has color temperature of 6,000K, 1,900 lumens, patented diffusion panel for wide-angle light emission. Also, its eco-friendly plastic is anti-magnetic, resists static interference, lightweight and looks good.
Multi-purpose Light
Another product by Jiin Haur with smart design is a patented, all-purpose lighting fixture of circular shape and 168 low-powered LEDs. This item is built to be adjusted upward, downward and sideways, includes a camera-tripod attachment, and can be mounted on a telescopic pole.
Other LED lighting products include a dynamo-driven, palm-sized flashlight; a cane with LED beacons; a handy reading light with vacuum-cup mount; and a multifunctional traffic control baton.
Jiin Haur promotes its entire line under the "BRIGHT" brand.
Beginning in 1977 as a garden-tool manufacturer, Jiin Haur has built considerable expertise and facilities in tooling and metal processing, advantages Wu is tapping to enter the LED-lighting manufacturing sector. "We use the same 3D CAD used for garden tools to develop lighting fixtures that ensure top quality," he says.
Wu notes that his company spends at least NT$10 million (US$312,000 at NT$32:US$1) to develop tooling for garden tools each year, and such expenditure will definitely increase with the diversification into lighting.
Electrical Design Know-how
Jiin Haur also has the requisite know-how to design electrical circuitry for lighting fixtures for it has developed electrical tools, which are safety certified to GS, VDE, UL and CE standards, as well as being ISO9001-approved.
Located on a 5,610-square-meter site amid rice paddies in the central Taiwan county of Changhua, Jiin Haur's main glass-screen building has a showroom and two plants with CNC lathes and punching machines, as well as an automated warehousing system for storing semi-finished parts. This maker has set up a lighting division also to build products in-house, as well as contracting LED packagers for LED modules.
Backed by highly automated production lines, Wu is confident of being able to achieve competitive costs: "Automation has helped us cut labor costs by about 30% in tool manufacturing, as well as greatly boosting production efficiency, and more importantly, assure consistent quality, which will definitely help in lighting fixture manufacturing."
The chairman also praises the company's warehousing system, enabling Jinn Haur to achieve prompt deliveries and minimize inventory risk. The warehousing system handles over 1,700 parts, any of which may be retrieved by an operator with a simple click of the computer key.
Uncompromising QC
Quality-control-wise, Wu is certainly uncompromising-insisting on meeting twice a day with QC technicians to check semi-finished parts at contractors, finished products in-house, and pre-packaged assembled products. "We don't just spot-check...we check every item."
Showing the similarities between lighting-fixture to garden-tool manufacturing and stressing the importance of quality and design, Wu cuts a wooden twig repeatedly to demonstrate the high quality of an orchard pruner. "This is a good pruner...one that won't crush a twig from cutting and has a comfortable grip. Most importantly, a very hard twig should not force apart the blades to compromise clean shearing."
Wu claims Jiin Haur is Taiwan's biggest maker of gardening cutters, turning out millions in about 40 different categories per year.