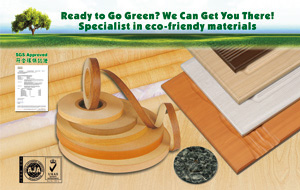 M.S. Printing Co., Ltd. has been engaged in the printing industry in Taiwan for more than two decades, well versed in a full range of wood grain printing on paper, PVC, PVC transfer film, melamine, PETG, and other environment-friendly materials.
The firm now maintains its major production base in mainland China, and its operations in Taiwan are focused on high-end items.
Now, the company's products include edge bands, decorative moldings, building materials, decorative strips, synthetic, PVC & PU sheets, veneers, wrapping papers, PETG films, etc., available with different colors and patterns. The company has been certified to meet SGS standards to guarantee the quality of its products. (JL)
M.S. Printing Co., Ltd.
No. 13, Lane 111, Minsheng Rd. Sec. 3, Taya Hsiang, Taichung Hsien, Taiwan 428
Tel: 886-4-2567-1168 (Taiwan), 86-757-8669-0858 (China)
Fax: 886-4-2567-2268 (Taiwan), 86-757-8669-8688 (China)
E-mail: msprint@ms14.hinet.net or msgcom@vip.163.com