Since its inception in 1976 in Taipei City, northern Taiwan, Winlites Ind. Co., Ltd. has been dedicated to production and development of lighting products as one of the most seasoned makers in the line on the island.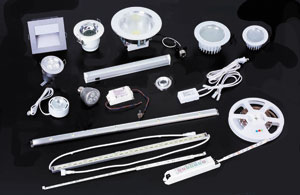 Winlites supplies a variety of LED lights for household use.
With sound production lines in a factory in China, the company turns out a wide range of LED lightings and related applications, including LED cabinet lights, LED stripes, LED bulbs, LED wall and floor lamps, LED underground lamps, MR16 and MR11 downlights, LED displays, LED candle lights, LED decoration displays, LED shelf lights, LED table lamps and LED-integrated soft PVC boxes, all of which meet UL, CUL, TUV and CE standards.
The company claims that its products have been well received in North America, Europe and Oceania for eye-catching and innovative exterior designs, easy installation and, above all, fully customized functions. Among its products, AD-01 series LED alcohol display, for instance, is highly praised for its customized exterior design and specifications for Corona's bottled beer.
Besides, the company, consistently absorbing state-of-the-art technologies to sharpen its competitiveness, has been also capable of handling production orders on an OEM basis. To further explore overseas partnership, the company will attend Hong Kong International Lighting Fair 2010 Autumn Edition.
Winlites Ind. Co., Ltd.
4th Fl., No. 156, Fuhsing N. Rd., Taipei City, Taiwan
Tel: 886-2-2717-7239; 2717-3580; 2717-1343
Fax: 886-2-2715-2514; 2712-7544
Email: winlites@ms36.hinet.net
Website: www.winlites.com.tw