Jyh Huei Plastic Co., Ltd., located in Taichung County, central Taiwan, has been specialized in production of screwdrivers and related tools for years with own brand JYH Tools for global marketing.

Conscientiously sharpening its manufacturing and R&D edges, the company has effectively gained solid ground in the market with a variety of high-profile screwdrivers, screwdriver sets and torque ratchet drivers.

Among its hot-selling product lines, the JH 867 series screwdriver is built with an impact cap on the bottom of ergonomically shaped handle for knocking and chiseling. The handle is made of polypropylene and thermoplastic elastomer for chromatic variety, and features rolling-resistant design for comfortable, firm grips. Furthermore, with tip made of heat-treated S2 or CR-MO steel and finished with black etching, the screwdriver is not only functionally but also visually attractive.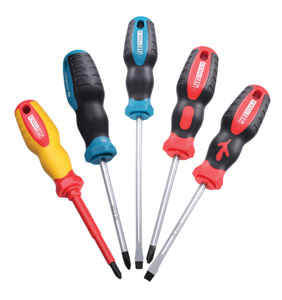 Jyh Huei Plastic Co., Ltd.
No. 101, Alley 81, Lane 2, Chunghsing Rd., Sec. 1, Tali, Taichung City, Taiwan
Tel: 886-4-2493-7872
Fax: 886-4-2493-7886
Email: jyh.huei@msa.hinet.net
Website: www.jyh-tools.com